Zique and ye shall find
We wrote previously about Zique's opening here and now we have had a chance to taste their wares which are available to be ordered online for collection.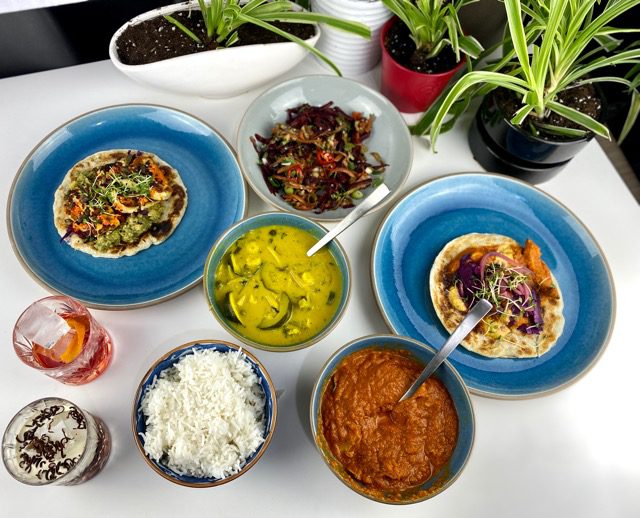 Video
Menu
Click here for an up-to-date menu, which is small so concentrates on what they do well, which is fresh and vibrant Asian-influenced food. We start off our Zique's adventure with a couple of cheeky cocktails, well it is lockdown after all!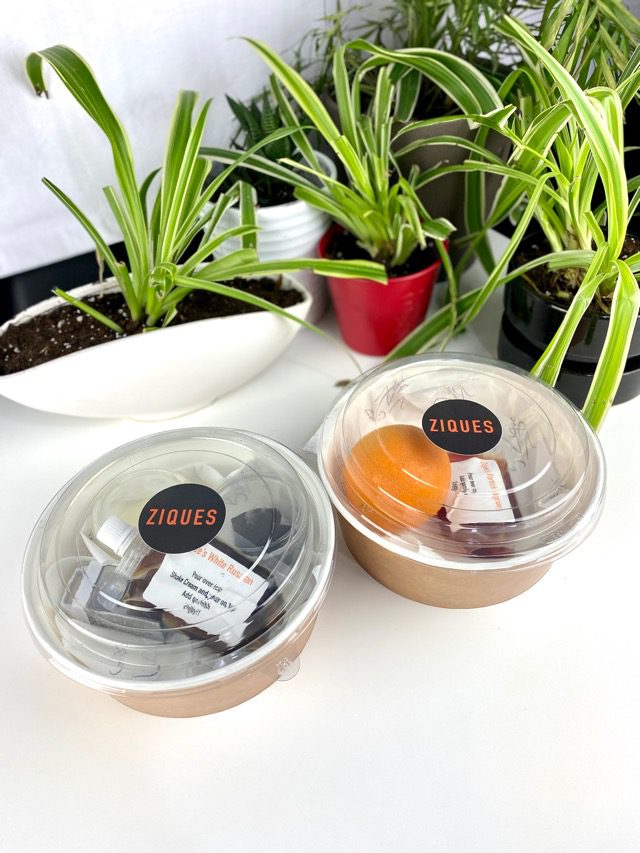 White Russian (£6) – Vodka, Kahlua and cream with chocolate and even a miniature grater included for a garnish on top!
Partick Negroni

(£6)

–
Cochi vermouth, Campari and displacing the gin is Wester Spiced Rum, which is distilled in Partick.
There's no scrimping in ingredients here, each one of these cocktails packs a boozy punch.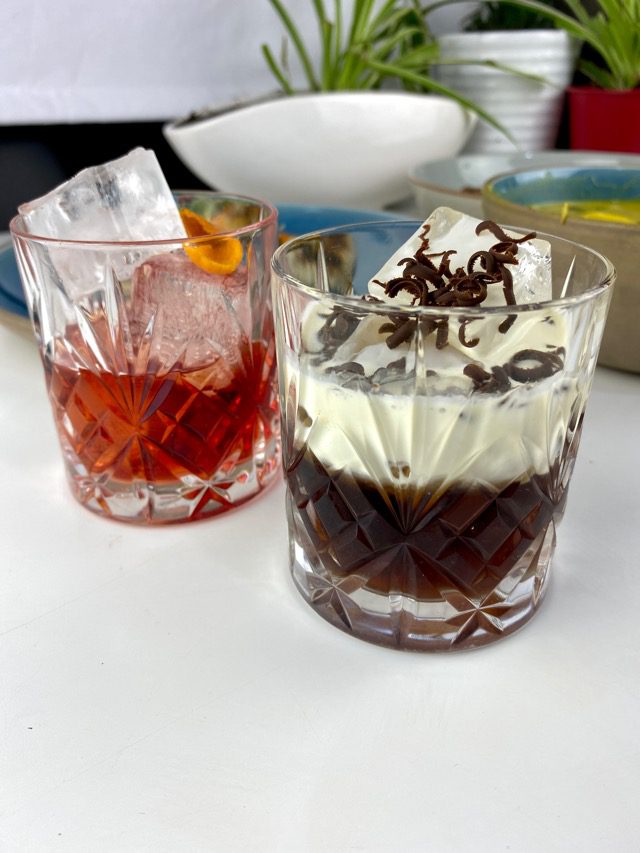 Food
But before we get too merry, here's the food.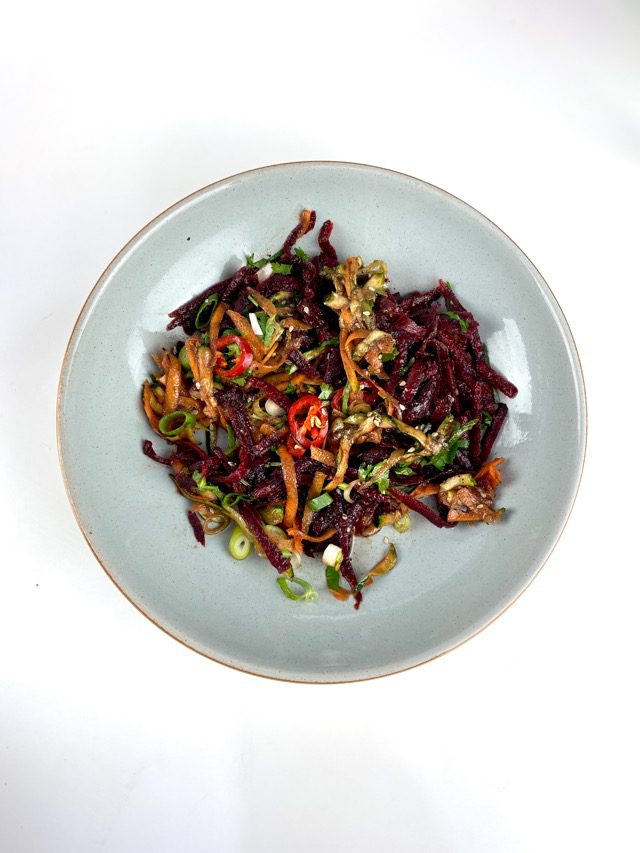 Asian Slaw side (£4) – shredded veg with an Asian-style sesame oil dressing.  Fresh umami flavours with a bit of crunch from the vegetables and notable heat provided by the red chillies.
Parathas form the bulk of the menu now and we sampled two, firstly the Halloumi Paratha (£7) – grilled halloumi with smashed avocado, red cabbage, chilli oil & toasted seeds. Cyprus meets India meets Mexico. Salty squeaky cheese with buttery avocado topped with mixed seeds and a chilli kick as well.

Butter Chicken Paratha (£9) – butter chicken with brinjal yoghurt, pickled red onions and red cabbage. A lot milder than the vibrant halloumi Paratha. Sort of by accident but we have eaten a lot of butter chicken over the last few weeks and don't show any signs of getting bored with it anytime soon. Tender chicken with crunchy onions and cabbage atop a paratha.
step aside tortillas, the parathas are here

We also had the above without the bread, the Butter chicken Curry (£9) is tandoori-marinated chicken, spiced tomato and butter curry. This has a big tomato flavour so ideal for anyone who usually shies away from curries, with plentiful chunks of flavoursome butter chicken.
Thai Veg curry (£8) – Fresh Thai yellow curry, pak choi, baby sweetcorn, courgette and broccoli. We had the curry, as opposed to the broth that comes with vermicelli noodles but the curry was actually like a broth so thinner than the butter chicken curry., therefore a bit underwhelming with the sauce/veg ratio. We love Thai curries and it still had all the flavour we were expecting and plenty of turmeric as we managed to spill some and stain our white table [Mr Foodie: I told Mrs Foodie that a white table wasn't a good idea!]

Verdict
The parathas are the main focus now, with 8 available, of which we tried two. These are a bit different and travel well as takeaway items and it's great to have them somewhere other than an Indian restaurant, meaning that you find toppings such as halloumi and avocado. An eggy paratha is also listed, which sounds right up our street and could possibly fill the gap that we never knew existed until we had breakfast at Dishoom in Edinburgh a few years ago. There also aren't that many places from which you can buy a fresh Thai curry in Glasgow, one of Mr Foodie's favourites, so we welcome this menu addition.
Overall, the items showcase fresh and vibrant fusion food. We did have to reheat the curries but then we are south of the river, anyone in the west end or city centre shouldn't have such issues and some more veggies in the Thai curry would be good.
 Only two cocktails are available but both were strong. They also have a limited beer (£2.50 – £4) and wine (£11 – £20) selection.
🌶❤️👍
Where
Zique's
66 Hyndland Street
Glasgow
G11 5PT
Transport
Click here for Traveline Scotland Journey Planner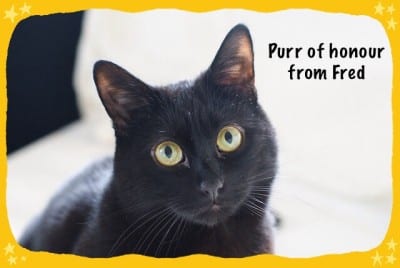 Disclaimer: we received a complimentary meal from Zique's.