Heat, eat and enjoy fine Italian cuisine at home
Over the last few weeks, we have tried a number of at-home dining meals from restaurants not just in Glasgow but further afield as well. Some involve a bit of fiddling with tubs and boxes and fully cooking at home, while others are already prepared and just require reheating. Eusebi Deli in Glasgow's West End is the latter so everything is quick to heat and plate, although even their delivery boxes are swish enough to use as plates.
We have been ordering a lot of takeaways in lockdown and in the time it would've taken me just to decide whether to use JustEat, UberEats or Foodhub and then which takeaway to pick – our dinner was ready!
A proper meal needs a proper cocktail, and once again Eusebi's had us sorted. There's a selection to choose from, each presented in a stylish branded box that is perfect for gifting.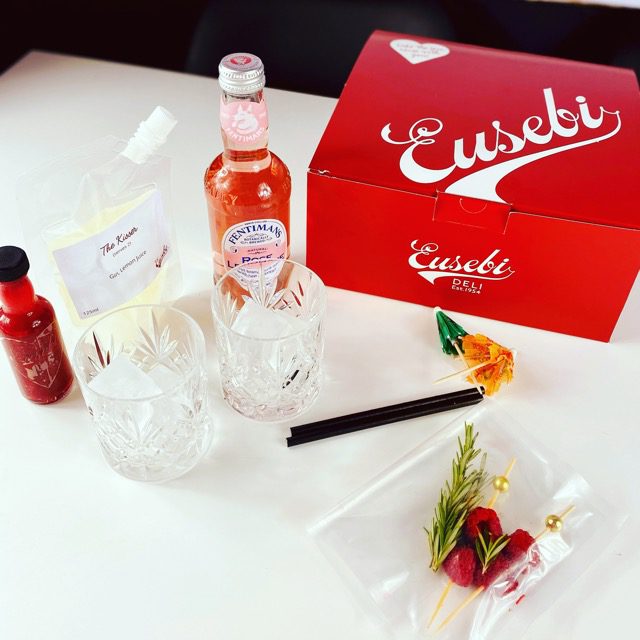 Being February and having our meal on Valentine's day, The Kisser was the obvious choice. Made with new Scottish LATITUDE 51ºN Old Tom Gin, it has a blend of Juniper Berry, Elderflower, Red Apple, Rose Hip, Sea Buckthorn, Ginseng and there's even some Canadian Maple Syrup in there. This is premixed with lemon juice and is served alongside raspberry purée and Fentiman's Rose Lemonade.🍹 Cheers!

Menu
There is plenty to choose from at Eusebis including bakery items, afternoon tea, a sourdough pizza kit, fresh pasta and sauces…for dinner options there are two. Firstly the February 3 course menu, which includes the following:
Starter
Nduja Short rib
Braised beef short rib glazed with nduja and served with agrodolce beetroot.
Main
Lobster Cannelloni
Hand-rolled pasta filled with lobster meat, ricotta & mascarpone then finished with a tomato & shellfish reduction.
Accompanied by Eusebi Healing salad.
Dolci
Chocolate & Salted Caramel Delice
Mini Almond & Orange Biscotti
There is also a 3 course vegetarian menu:
Starter
Burrata, Blood Orange & Pickled Fennel (v)
With red chicory & chilli.
Main
Handmade Ravioli filled with Roasted Cauliflower, Almond & Oregano (v)
Served with parmesan cream sauce.
Accompanied by the Eusebi Healing Salad.
Dolci
Chocolate Salted Caramel Delice.
Mini Almond & Orange Biscotti
Food
So what does it all taste like?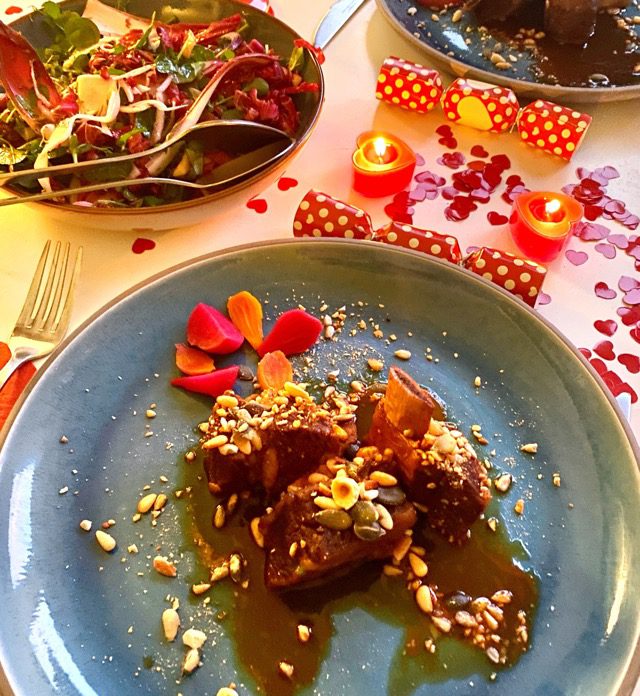 Nduja Short rib
Braised beef short rib glazed with nduja and served with agrodolce (sweet and sour) beetroot. We accompanied this with a healthy portion of Eusebi healing salad. The slowly cooked beef short rib needed a brief re-heat within a pouch of rich gravy.  Moist, tender and most importantly approved by Fred, our pet cat and chief taster. The healing salad went well with this, the crunchy radicchio offsetting the tender meat of the beef short rib.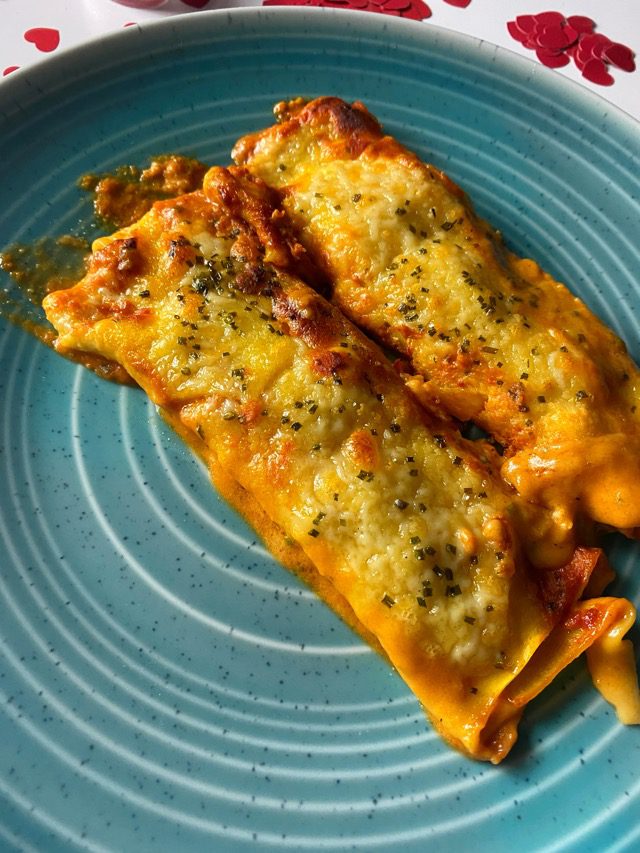 Lobster Cannelloni
Hand-rolled pasta filled with lobster meat, ricotta & mascarpone and finished with a tomato & shellfish reduction.  Not the prettiest of presentation from us, but who cares – the taste is what matters. 😍 We could have easily have eaten another portion, it was that moreish. This was a delicate dish of creamy lobster wrapped in cannelloni like a comforting blanket.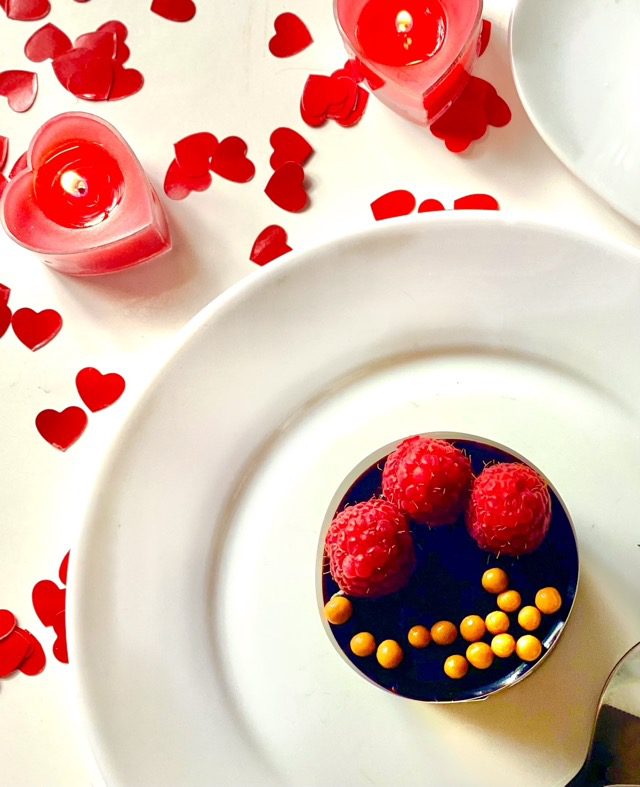 Eusebi Deli is rightly known for their desserts and this Chocolate Salted Caramel Delice doesn't fail to impress.  The delice is thick, sumptuous and dreamy, with each spoonful melting away to a smile.
Verdict
Excellently presented in sturdy boxes and so easy to reheat and eat. All three courses were excellent and to a far higher standard than our usual takeaway meals. This is one of the better at home dining options we have used and it's well priced too. 3 courses for 1 person is £22.50 or £45 for a couple. Cocktails are £16 – £18 and each contains enough for 2 drinks. Bottles of wine are also available from £16. Available on Fridays, Saturdays and Sundays – pick your date up to a few weeks in advance when ordering. Collection is free but delivery is £8. We also highly recommend their Crema Cornetti box (a box of 4 freshly-baked cream-filled sweet croissants for £12). 
❤️👍
Where
Eusebi Deli
152 Park Road,
Glasgow,
G4 9HB
Order online here ➡️ Eusebi Deli Website

Disclaimer: Fred sez his hoomans revived a gifted meal and cocktail so that they could write about it. It smelled well goods, and he trusts his hoomans to write da truth.