German beer and food in Glasgow city centre
Seeking a German beer and food boost after our holiday to Germany, a lunch date was picked at Bavaria Brauhaus on Bothwell Street in Glasgow's city centre. (click here for more city centre ideas)
The site has seen many uses and appears to have settled into the German bierhaus well. It's a gorgeous building and suits this type of drinking hall style.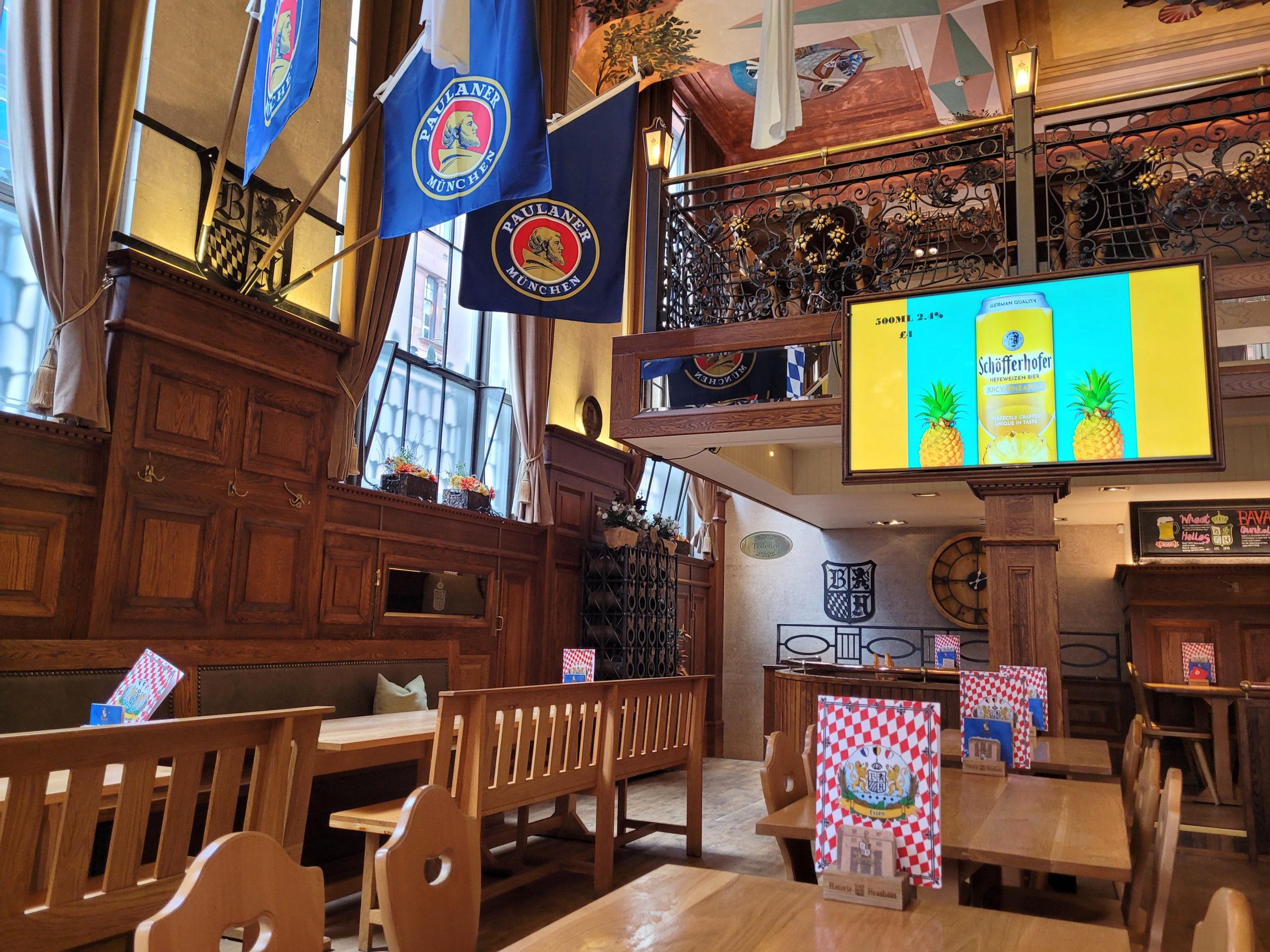 Menu for Bavaria Brauhaus
There is a special on at the moment, as well as the full menu.
What we ate and drank in Bavaria Brauhaus
We started off with a couple of half pints of DAB Dortmunder lager which went down well. The weather wasn't as sunny today, but it still had that humidity where a crisp beer goes down well.
After a fair bit of a wait, about 30 mins, our food comes out. With an apology 🙂
The Colonel picked a grilled lemon and thyme burger which is served on a brioche bun with salad, pickles and a spicy mayo sauce with herb-salted chips. A good chunk of moist chicken here, not much of a lemon and thyme taste to the meat, no sign of the mayo and the most unsalted and herb – herb-salted chips ever.
A classic currywurst for myself, which was smokey and juicy. The pretzel bun was toasted on the outside, or was that from the kitchen lamps as the currywurst sauce had a been sitting skin on it. The sauerkraut was sweet and the sauces tasty.
Verdict
hmm OK. The £7 deal for the currywurst and a soft drink was good but I would have expected more for the original £11.95 price. The chicken burger was a good size and moist, but lacked the flavours mentioned in the menu.
TL;DR
+great selection of beers
*friendly service
-food needs to come up to German food levels of nomness.
Where
Bavaria Brauhaus,
30 Bothwell Street,
Glasgow
G2 6NU