Southside brunch at Asian Breakfast
It's Sunday, we're hungry and where to go that's different?  How about Asian Breakfast? Southside brunch with a difference? We have no idea what is on offer but it looks interesting from the outside, so in we went.
Brightly lit inside, a couple of tables were occupied.  We picked a table and checked the menu.
Menu
And an interesting menu it is too.  Google at the ready to see what Halim was (it's a stew) and Pacha (boiled cow or sheep parts).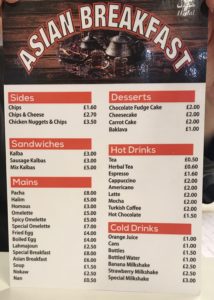 Mr Foodie was still full of the cold, so he was talked into Pacha.  The guy at the table behind us heard that we were interested and let us see his.  He recommended it as a good hangover cure! Not hungover, but needing nourishment, Mr Foodie decided this was for him.
Food
And here it is, tripe and all! Basically a meaty broth with tripe.  The meat is on the bone so lots of flavour here. Tender and a wholesome  broth.  Just what was needed. No comment on the tripe- even that's too far for us!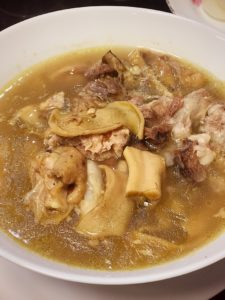 Mrs Foodie picked the Asian Breakfast which was an Iranian style breakfast.  Fried eggs, olives, yoghurt, honey, various jams, tahini and halva.  Served with even what a carb-o-holic would think twice about eating amount of bread.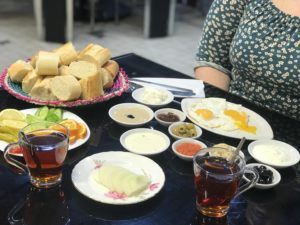 Served with tea and fruit and veg.  A serious start to the day, and an enjoyable one at that.
Verdict
👍
Where
Asian Breakfast
361 Victoria Road,
Glasgow
Transport
Click here for Traveline Scotland Journey Planner
Accessibility
Level entry. Toilets are down a scary looking set of stairs.