Dam good scran
There's no need to miss out on your fave burger or boneless wings as The Amsterdam Glasgow on Brunswick Street have launched a pickup and delivery service and we were lucky enough to be asked to give the delivery a try, with a selection of Boneless Wings, Mac and Cheese, 'Dam Classic Burger, 'Dam Chicken Burger and fries. So what did we think?
Our delivery
First of all, everything arrived at the expected time in excellent condition and Fred (our cat and chief taster) was very intrigued. He happily munched the burger, the chicken and gave the macaroni cheese a lick. Being Fred approved so quickly is always a good sign, he even turns his nose up at posh cat food sometimes, fussy little…
There was plenty of food for all three of us, not that we advocate feeding burgers to cats but Fred loves 'hoomin' food.

'Dam Classic Burger (£7.50) – Homemade beef patty, red onion, pickles, lettuce, cheddar cheese, burger sauce. A tasty cheeseburger with McDonald's-style sauce, a bit like a chargrilled Big Mac, which is no bad thing. Excellent texture and the right amount of toppings but it was quite salty, not an issue for us but might be for some.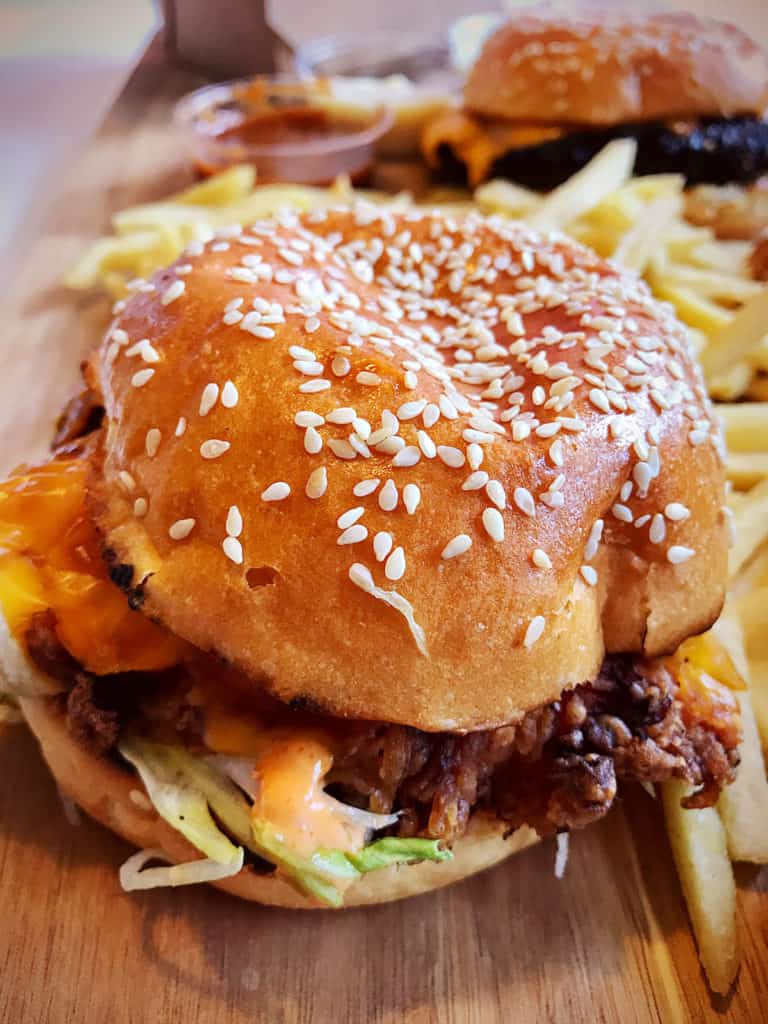 Classic 'Dam Chicken Burger (£8)- combo of crispy fried chicken, lettuce, cheddar cheese & sriracha mayo. Big chunky flavoursome chicken with a piquant sauce.

Mac and Cheese (£4) – this looked the part with a good consistency and there was plenty of it but being macaroni cheese afficianados it could definitely have been cheesier. We kept for this later, grated some more cheese on top and heated it under the grill for a late night snack.
The Boneless Wings (£6) provided all the tastiness of great wings but without the faff of bones and the blue cheese and buffalo sauce dips were an excellent match for these. There are 9 sauces available (each 50p) so something to satisfy everyone.
Fries are regular American-style takeaway fries priced at £2.50 per portion. Spiced fries are also available for the same price.
Verdict
👍 Thumbs / paws up from everyone.
TL;DR
+ Quick delivery / excellent condition
+ Good quality chunks of chicken
+ Wings without bones, great with the dips
+ Choice of 9 dips
+ Fred approved!
– Mac and cheese could be cheesier
– Burger a bit on the salty side
Where
The Amsterdam delivery via Uber eats 👌🏻😍
https://www.ubereats.com/gb/glasgow-uk/food-delivery/the-amsterdam
Between 4 – 9pm Wednesday – Friday
Between 12 – 9pm Saturday – Sunday
(Closed Monday / Tuesday)
Order for pickup by calling directly on 01415525108
Accessibility
Come say hello on Instagram, Facebook and Twitter ❤️
Disclaimer: we received a complimentary meal but Fred ate pretty much everything so it clearly was VERY good!