Hipster pizza and bites in the Merchant City
We found ourselves in the Merchant City for the first time in ages recently and were hungry. We toddled past where Batgirl was being filmed and thought we'd give Nonna Said a visit. They had a bit of a splash on social media on opening, but thankfully when we visited it seemed full of people eating rather than taking photos of themselves but I somehow get the feeling that we are not the target audience but we persevered.
Just like Kublai Khans and Romans before, the entrance isn't the most enticing and even more so on a cold, dark January evening.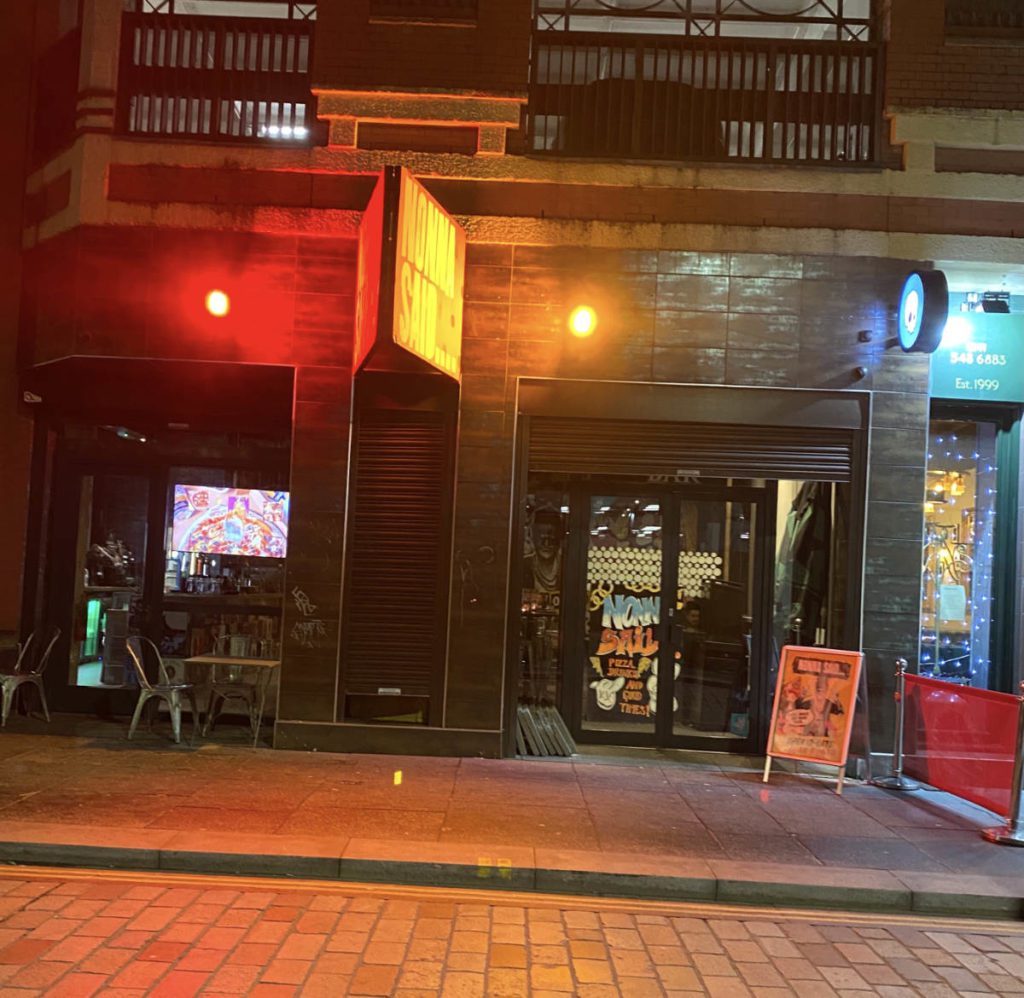 Inside, well I don't know what the vibe is – the walls are garish (their website might even induce epilepsy), Wild Style meets Arcade games and Hip Hop with a granny wearing a 'Thug life' hat. You would assume a granny from the Bronx or thereabouts, with the Italian influence on New York but with NWA and 2Pac on the walls maybe she's more of a Compton Granny? Are there many Italian grannies in Compton? I have no idea.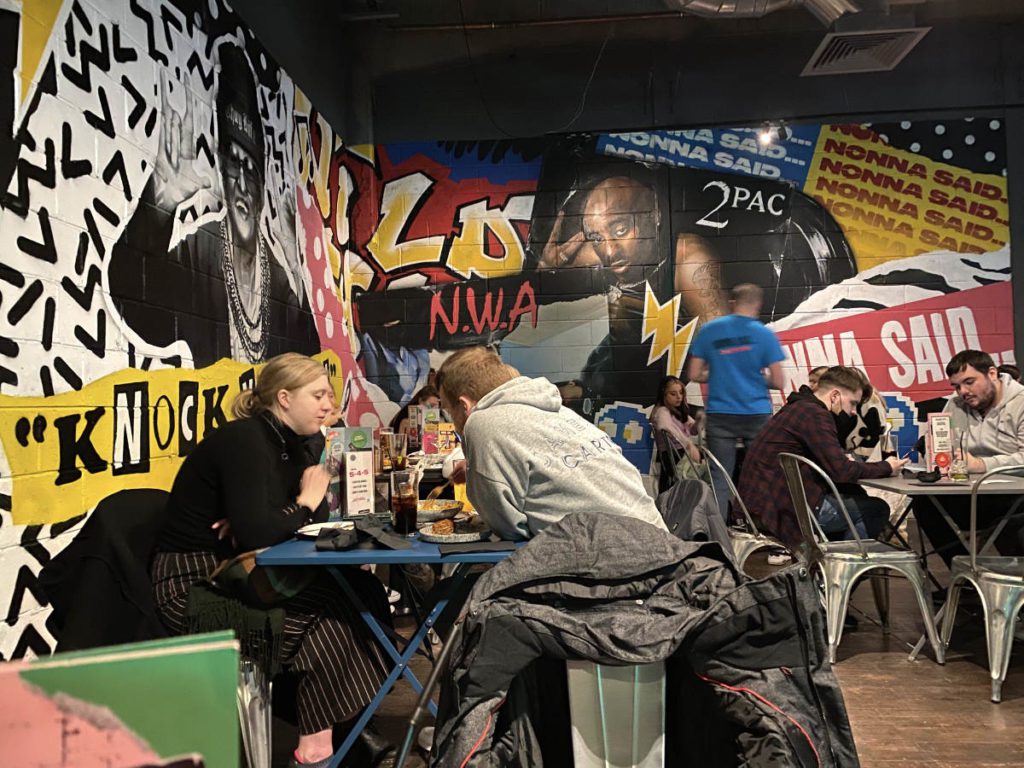 The menu is a bit like the decor, all over the place with Japanese, Mexican, Italian and Scottish influences, and everything seems to be spicy by default which was disheartening. Sometimes I just want my chips to be plain, 'unloaded' and free from toppings!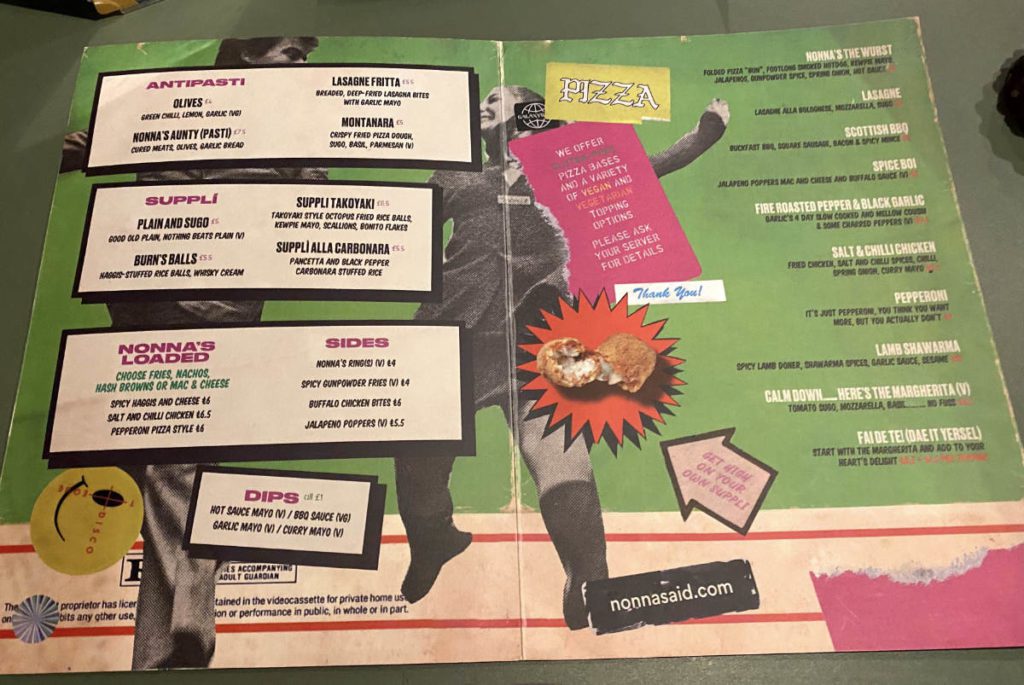 At least the desserts don't appear to be spicy…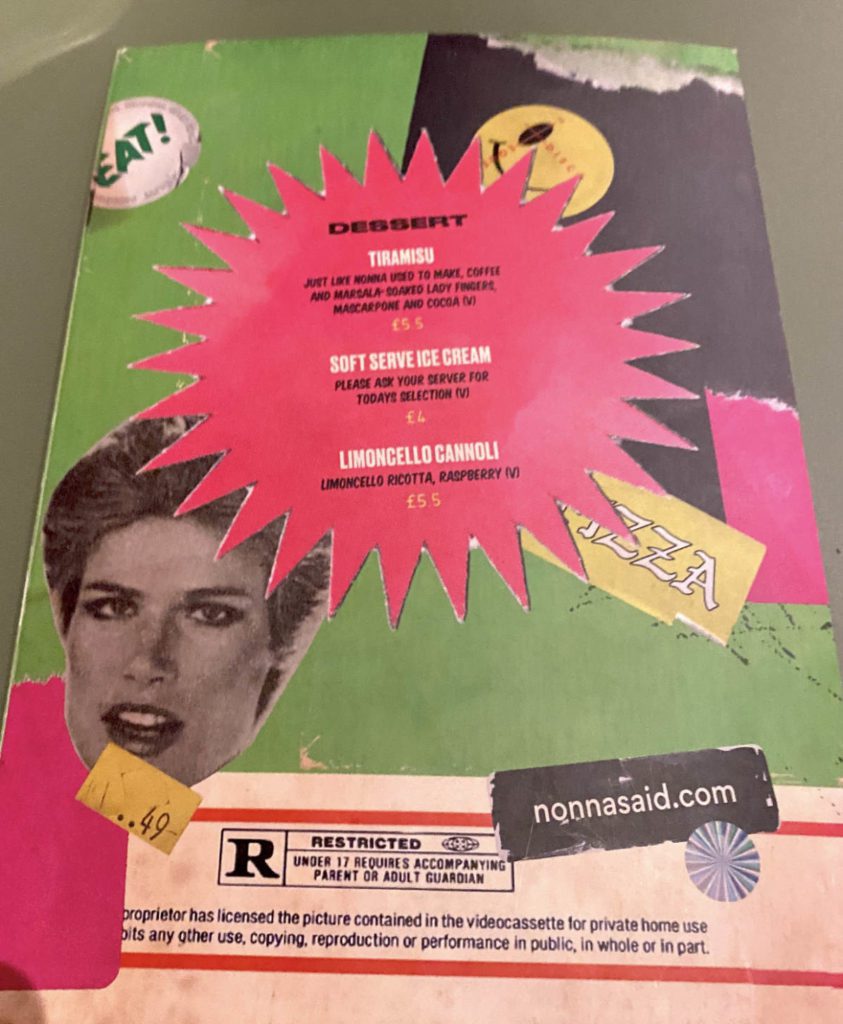 And so onto the food – Lasagna Fritta (£5.50), breaded and deep-fried cubes of lasagne served with garlic mayo. Just like slices of lasagne from yesterday deep-fried to rescue a hangover the next day. If I was hungover, these would probably have hit the spot more.
Nonna's loaded – choose between fries, nachos, hash browns or mac and cheese with various toppings. We picked pepperoni pizza style (£6), there is also spicy haggis and cheese and salt and chilli chicken. I'll admit I wasn't really swayed by any of the choices. I had just spent the month of January having haggis for breakfast, lunch and dinner so that was out of the question, salt and chill chicken seemed like a random topping for nachos and mac & cheese and I'm not all that keen on pepperoni as it's always really greasy but it was probably the least spicy of the three. I like spice, but there are times you'd just want carbs and cheese!
Anyway, less moaning Emma and what were the nachos like? They were good actually with lots of sauce and cheese and pepperoni, which Mark munched.
As you can see the cheese was perfectly stringy and there was lots of it. I'd return just for the nachos alone – minus the pepperoni of course.
then we had Suppli Takoyaki (£6.50) – Takoyaki Nonna Said style. Octopus fried balls with kewpie mayo, spring onions and bonito flakes.
We love takoyaki, made with chunks of octopus and spring onion inside a velvety batter ball, and having been to Japan we have eaten the real deal. These, are Nonna style, so not quite as dainty and Japanesey as expected. They actually tasted more like some form of whitefish rather than octopus, so not bad, just not what we were expecting.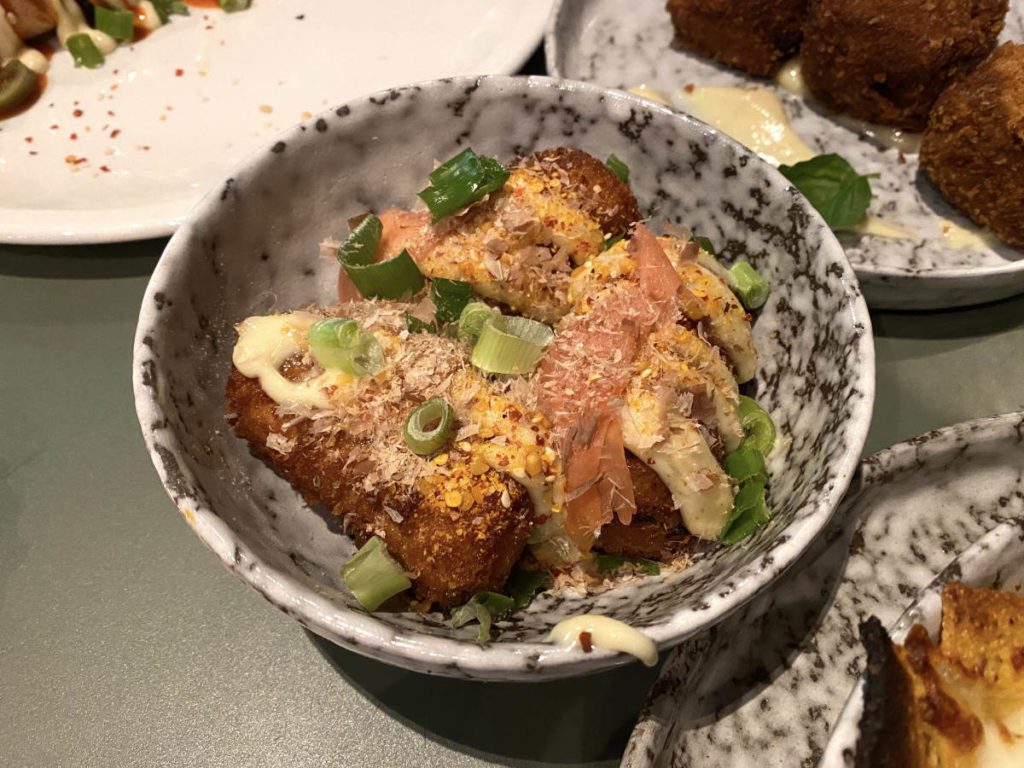 Nonna's the Wurst (£8) – folded pizza 'bun" footlong smoked hotdog, kewpie mayo, jalapenos, gunpowder spice, spring onions and hot sauce.
I know, I've just moaned about the number of spicy things on the menu and then ordered a dish with hot sauce and gunpowder spice but we'd already had lasagna bites so I didn't fancy it in pizza form as well, Margherita – yes there is a plain 'no fuss' pizza – is a bit boring, so this was the best sounding pizza on the menu. I also liked the sound of Scottish BBQ with Buckfast BBQ, square sausage, bacon and spicy mince, but it was the mince that put me off that one. Maybe I'll order it next time, without the mince. (I think I'm the only Scottish person who doesn't like mince!)
Nonna Said claims to do Napoli-style pizzas but Nonna's the Wurst is not a normal Neapolitan pizza, it's actually a dough-wrapped hotdog draped in a spicey mayo coating. Actually, I loved it. The Jalapenos went to Mark as extra topping alongside his pepperoni nachos. A large and sturdy hotdog sausage wrapped in perfectly cooked dough. So thumbs up here.
The arcade machine for anyone wondering was Streetfighter V, which is a good bit more modern than 2Pac and NWA but around the corner, we also found the Italia '90 world cup mascot as well. Is this for us oldies after all?
The hipster retro vibe continued with the bill being presented in a cassette tape case. Nonna hanging out with 2Pac here.
Verdict
👍
After feeling a bit out of place with the decor and a bit of an eclectic menu style, Nonna Said comes up trumps with its food, especially the amount of cheese on the nachos but it would be nice if Nonna could calm down on the default spice levels.
Nonna Said Location
Nonna Said, 26 Candleriggs, Glasgow, G1 1LD
Nonna Said Reservations