Celebrate the birthday Rabbie Burns in Glasgow
Each year, at the end of January, Glasgow parties to celebrate late, great poet, Robert Burns.  Expect to experience haggis, neeps and tatties and drams of whisky. Maybe a ceilidh dance
The Ivy Buchanan Street toasts the Bard with limited-edition menu items for Burns Night
The Ivy Buchanan Street is celebrating Scotland's National Bard with a series of limited-edition items for Burns Night. Specials will be on offer from Monday, 20 January until Sunday, 26 January and include Bulls head dry aged Scotch rib steak (£44.95), served with a whisky sauce as well as a Haggis, neeps and tatties shepherd's pie (£15.50), which is made with slow-braised lamb leg, beef and haggis, accompanied by a red wine sauce.
The cocktail menu, created by The Ivy's expert bar team, will include Rabbie's Coffee (£9.25), which uses Highland Park, vanilla syrup, coffee and double cream and A Wee Dramble (£9.75), featuring Highland Park, lemon juice, sugar syrup and crème de mure.
Suzanne Gilchrist, General Manager at The Ivy Buchanan Street says: "In addition to our a la carte menu, we'll be serving up some Rabbie Burns inspired dishes including a twist on our famous Ivy Shepherd's Pie with haggis, neeps and tatties."    (Our other site Foodie Explorers went for a taste – have a look at the food here)
Scottish Beer vs Whisky vs Haggis.
Innis & Gunn Ashton Lane on Thurs 30th January promise an evening of beer, whisky and haggis. You be the judge and announce your favourite.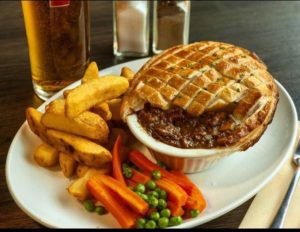 Expect a night full of entertainment this Burns night at Mharsanta on Saturday 25th January including Whisky Tasting, Daibhidh our Piper, Address to the Haggis and Live Scottish Trad Music from Hingin by a Threed.
The menu for the night
A Welcome Glenlivet 12 y/o
****
Scotch Broth served with Homemade Soda Bread (v)
Haggis Cake – A homemade cake of Haggis, Potato and Onion coated in Panko Breadcrumbs with a Whisky Sauce
Stuffed Aubergine Rolls with a Spicy Tomato Sauce (v)
Smoked salmon with lemon crème fraiche and melba toasts
****
Haggis, Neeps and Tatties with Whisky Sauce
8oz Scottish Sirloin Steak served with Thick Cut Chips and Rocket & Grana Padano Salad (£4 supplement)
Mharsanta Steak and Sausage Pie served with Thick Cut Chips & Seasonal Veg
Grilled Fillet of Seabass with Pesto Mash and Roasted Tomato Chutney
Red Lentil & Mixed Bean Casserole – Tender Red Lentils, Mixed Beans, Roasted Vegetables & Green Beans in a Tomato and Basil Sauce served with Brown and Wild Rice
****
Homemade Cranachan
Irn Bru Cheesecake
Sticky Toffee Pudding with Vanilla Ice Cream
Price pp £29.50
Burns Night at The Hebridean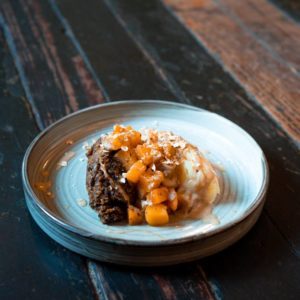 The restaurant and bothy bar will be celebrating the Scottish bard's birthday with a few drams and the three-course dinner includes COCK-A-LEEKIE SOUP – toasted Barley, confit chicken leg; HAGGIS, NEEPS & TATTIES – homemade, toasted oats, islay whisky sauce; CRANACHAN – raspberry, whisky, honey ice cream, toasted oats. The menu is priced at £25 per person.
In addition, the restaurant will serve up a 'Burns Weekend Special' with Haggis, Neeps & Tatties served with a dram of whisky for £12.50 – available for lunch or dinner as a menu special between Thursday 23rd – Sunday 26th January (inclusive).
The Hebridean gastropub 'Burns Supper' will be held on Saturday 25th January 2020 and is priced at £25 per person. Book before Monday 20th January and enjoy a complimentary whisky with your meal.
Book now at www.the-hebridean.co.uk/
Sloans Burns Supper
Sloan's are hosting a special Burns Night supper on Friday 24th January with poems and bagpipes with a three-course supper, a dram and ceilidh to round off the occasion.
Orcadian Whisky Dinner To Celebrate Burns Night in Glasgow
Gamba has announced an Orcadian Burns Night Whisky Dinner in their multi-award-winning restaurant for Sunday, 26th January 2020.
The evening will be hosted by Single Malt Whisky Ambassador Adam Devine, who will introduce expressions and drinks from the award-winning Highland Park single malt portfolio including the 12-year-old Viking Soul and the 18-year-old Viking Pride.  Matching each serve, Gamba chef-patron, Derek Marshall has created a spectacular Scottish menu. Dishes such as peated smoked salmon from the world-famous Marrbury Smokehouse, with fresh white crab, prawn and an indulgent whisky Marie Rose to beautifully roasted Shetland-caught hake with Isle of Mull scallops and Haggis, neeps and tatties with pancetta and shellfish cream.
Meanwhile, dessert lovers will enjoy their Glasgow honey cheesecake, served with raspberries, fresh mint and their specially crafted whisky and oatmeal ice cream made with a sweet Highland Park 12-year-old.
Event Details:
£55pp (Canapés, 4 courses, 3 cocktails, two drams, coffee & whisky tablet)
Sunday, 26th January // Seating: 19:00 for 19:30
For reservations, please call Gamba on 0141 572 0899 or visit their website www.gamba.co.uk
Republic Bier Halle
Looking for something different this Burns Night?  Haggis pizzas and Scottish beers are on offer at Republic Bier Halle.  Vegan and gluten free are available as well.
Come say hello on Instagram, Facebook and Twitter ❤️