A look inside plus the latest menu – Tokyo
It was our first visit to Glasgow's west end in a long time at the weekend and it seemed like most of Glasgow had decided to do the same. Travelling on a packed bus to get there, Byres Road was busy with a lengthy queue outside of Valaria across from the bustling new Six by Nico restaurant, which was also full for a soft opening. West End residents and local press were treated to a menu inspired by a trip to Japan, one of our favourite countries!
The teal base with spots of colour from plant pots, glass features and brass fixtures means that there is a luxurious feel but it's comfy and relaxed at the same time. If you are lucky to be seated at the rear of the restaurant, you get to see the chef's working away at the open pass.
The Tokyo Menu
On the reverse of the menu is the story of how the Tokyo experience came together. Details of 5 am Tokyo fish market visits and street food chicken. It reminded us so much of our holiday in Japan, a whole seven years ago. With seven being a lucky number in a Japan, maybe this is the universe telling us that it is time to return east!?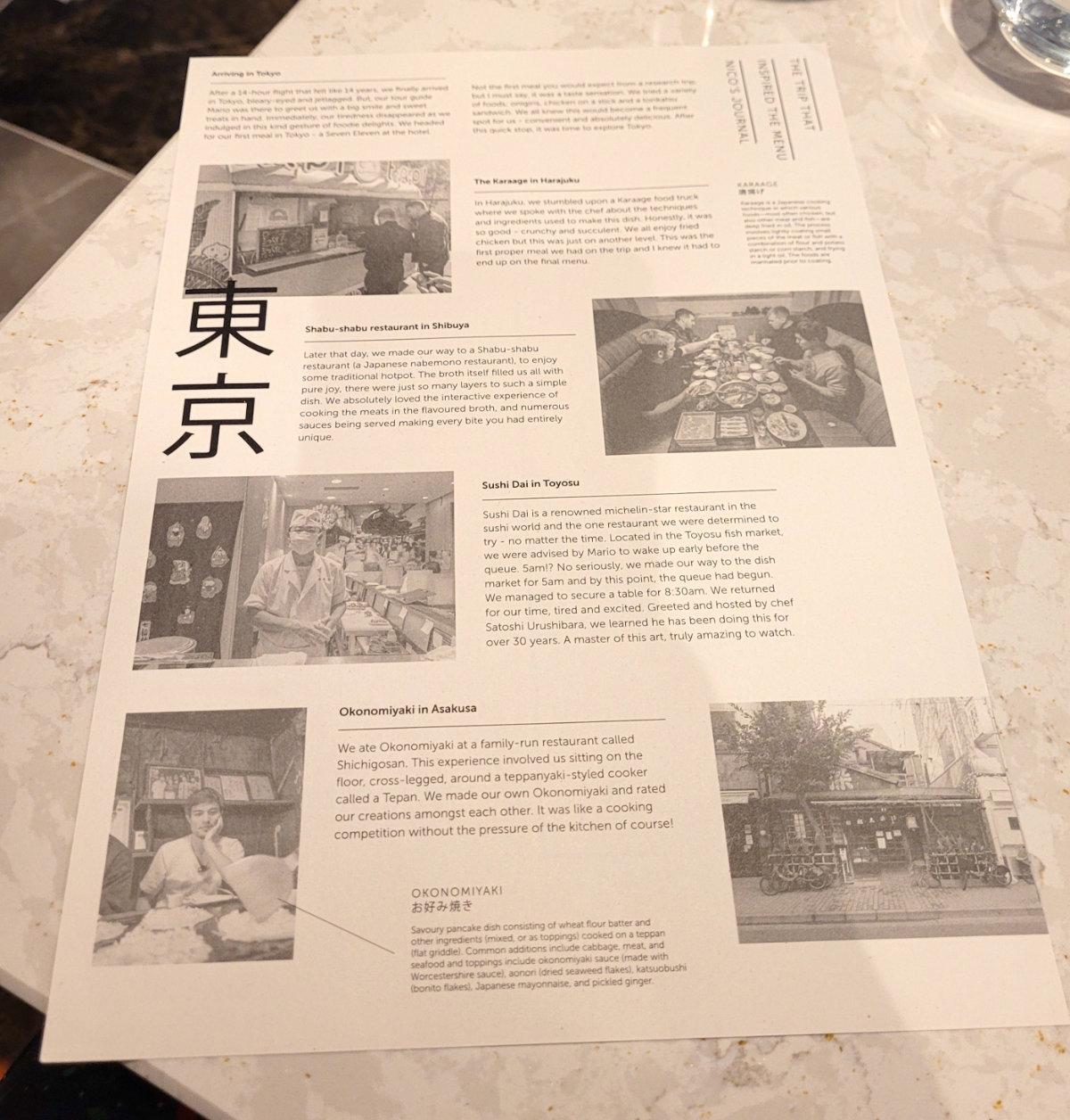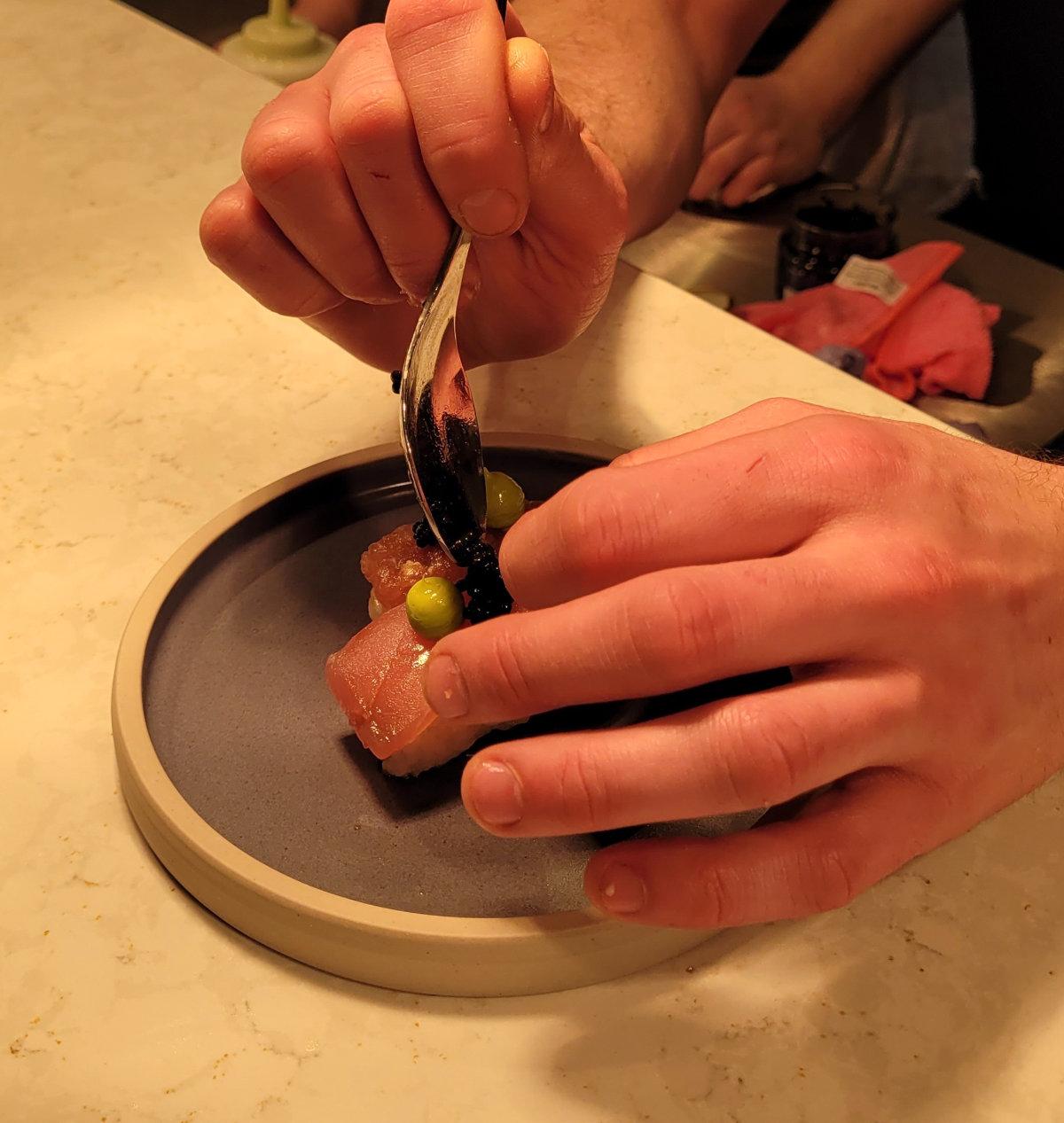 Available to order are snacks including tuna nigiri with wasabi, pickled ginger and soy and miso broth. If you're not a fan of wasabi, don't be afraid it's more like a Japanese mayo and wasabi mix so not too hot.
Onto the tasting menu…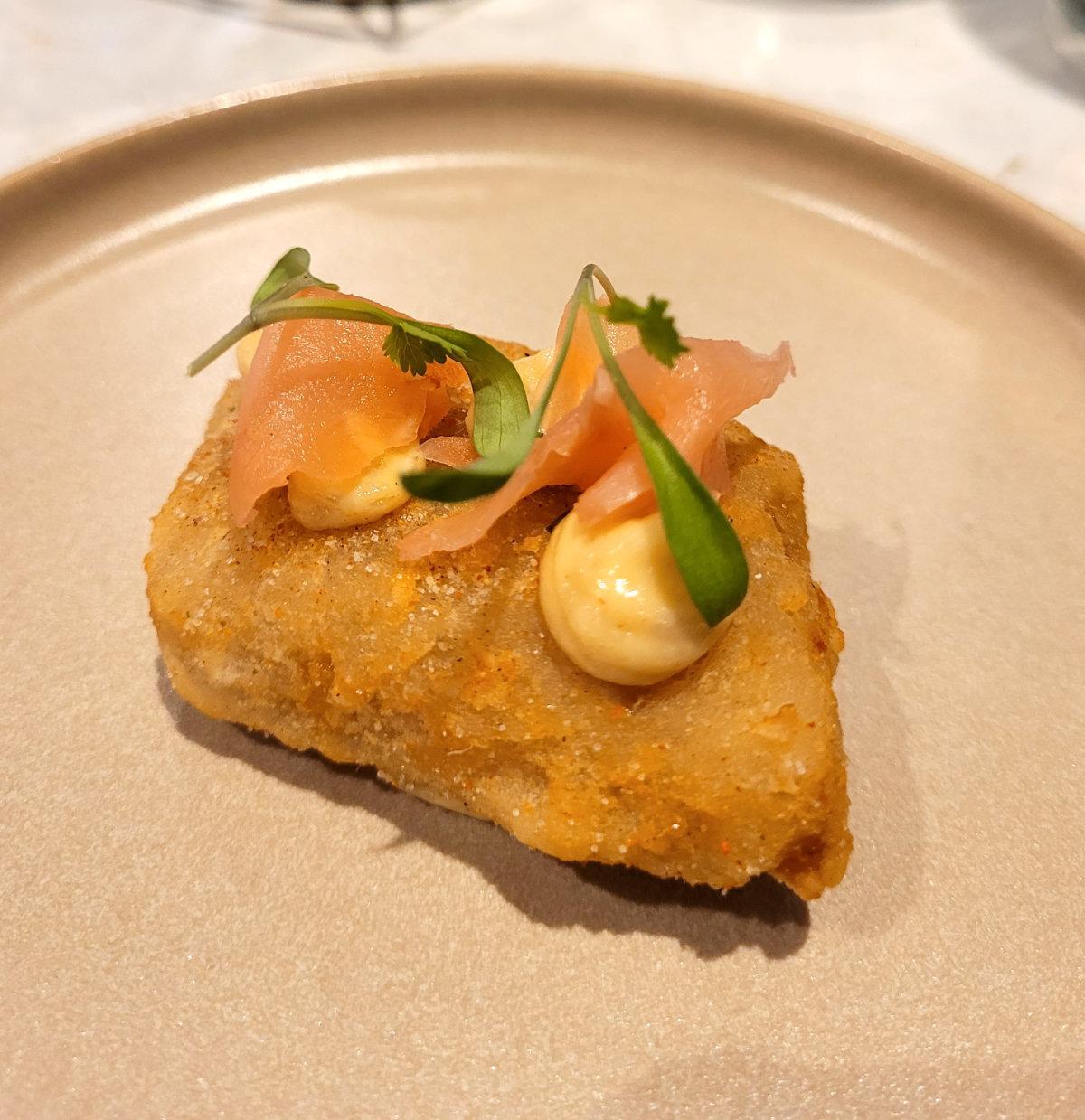 Chicken Karaage
Not all that common in Japanese restaurants in Scotland from our experience but absolutely something you will see a lot of, and should eat, in Japan. It's fried chicken, made with the much-neglected chicken thigh and togarashi (a Japanese spice mix) and ginger. There was certainly a tingle from the togarashi spice amongst the crisp batter.
Tempura
Get in with your hands here as it's too faffy with a knife and fork. Dainty enoki mushroom with pickled daikon and ponzu. It's a bit like really tangy salt & vinegar crisps, which is no bad thing. This dish came with the first of the paired wines Sonante Branco 2020 DOP by Vila Nova de Tazem from Dão, Portugal. Mark noted that it had a peach and pear aroma, with more of a fresh lime taste and good length.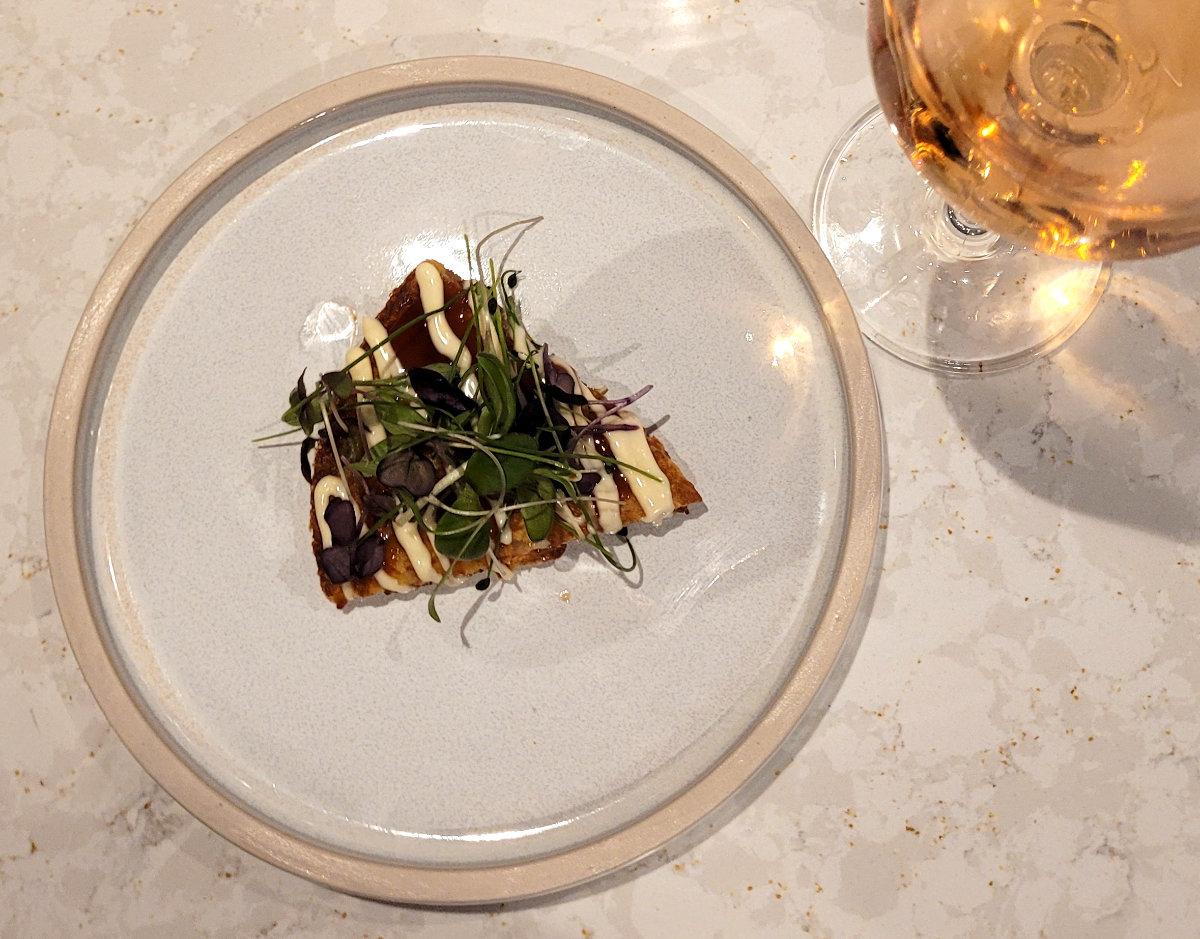 Okonomiyaki
This is one dish we were both looking forward to. Also known as Japanese Pizza or Pancake, this okonomiyaki is filled with pork and prawn and covered with okonomi sauce and Japanese mayonnaise. Okonomi sauce is a bit like British brown sauce, so there's a fruity spice and creamy mayo combo here. The paired wine is a Dry rosé merlot 2021 by Hill & Dale in Stellenbosch, South Africa, which had an aroma like tomato ketchup crisps (seriously!) and an initial sweet strawberry taste followed by a medium dry finish.
Ramen
Now I bet you didn't think you would see ramen looking like this?! Instead of ramen noodles, the noodles are turnip slithers topped by a crisp slice of sea bass with egg yolk jam, mushroom and dashi. Not quite as comforting a feeling as a bowl of ramen, however, the perfectly cooked fish and superb dashi made this a lighter experience ideal for this tasting menu. Paired with Bevicisu Bianco (65% Chardonnay, 35% Sauvignon) DOC by Azienda Malgrà from Piemonte, Italy. This is a white with earthy aromas and an acidic lemon taste so ideal for fish.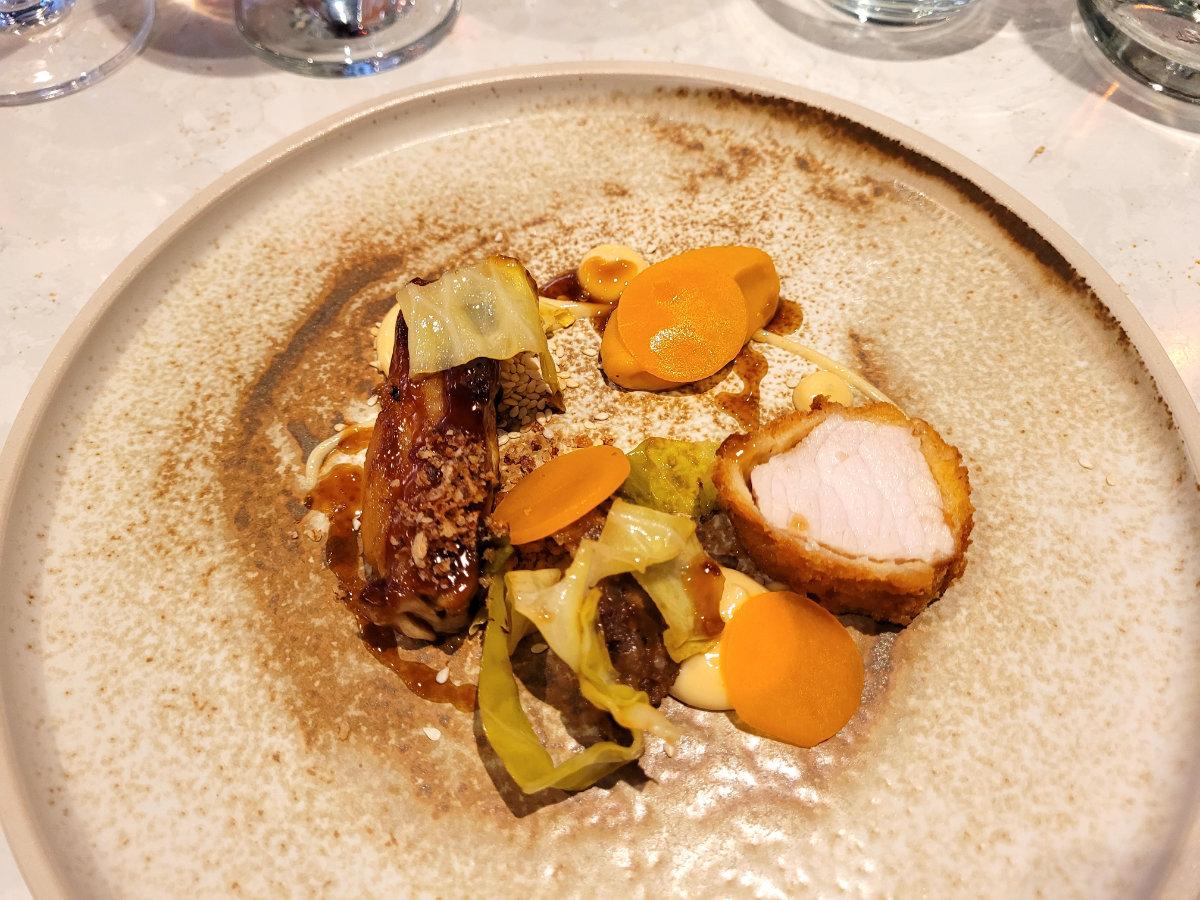 Tonkatsu
Tonkatsu is a deep friend pork cutlet (not to be confused with tonkotsu, which is ramen made with pig bones). Along with this there is glazed pork belly, cabbage, pumpkin and ham jam. Melting pork belly here and a super crisp katsu covering the pork. Paired with La Vieille Eglise by Cave du Marmandais near Bordeaux. It's made with malbec so it has a leather and dark fruity jam aroma with a sour cherry taste and a dry finish.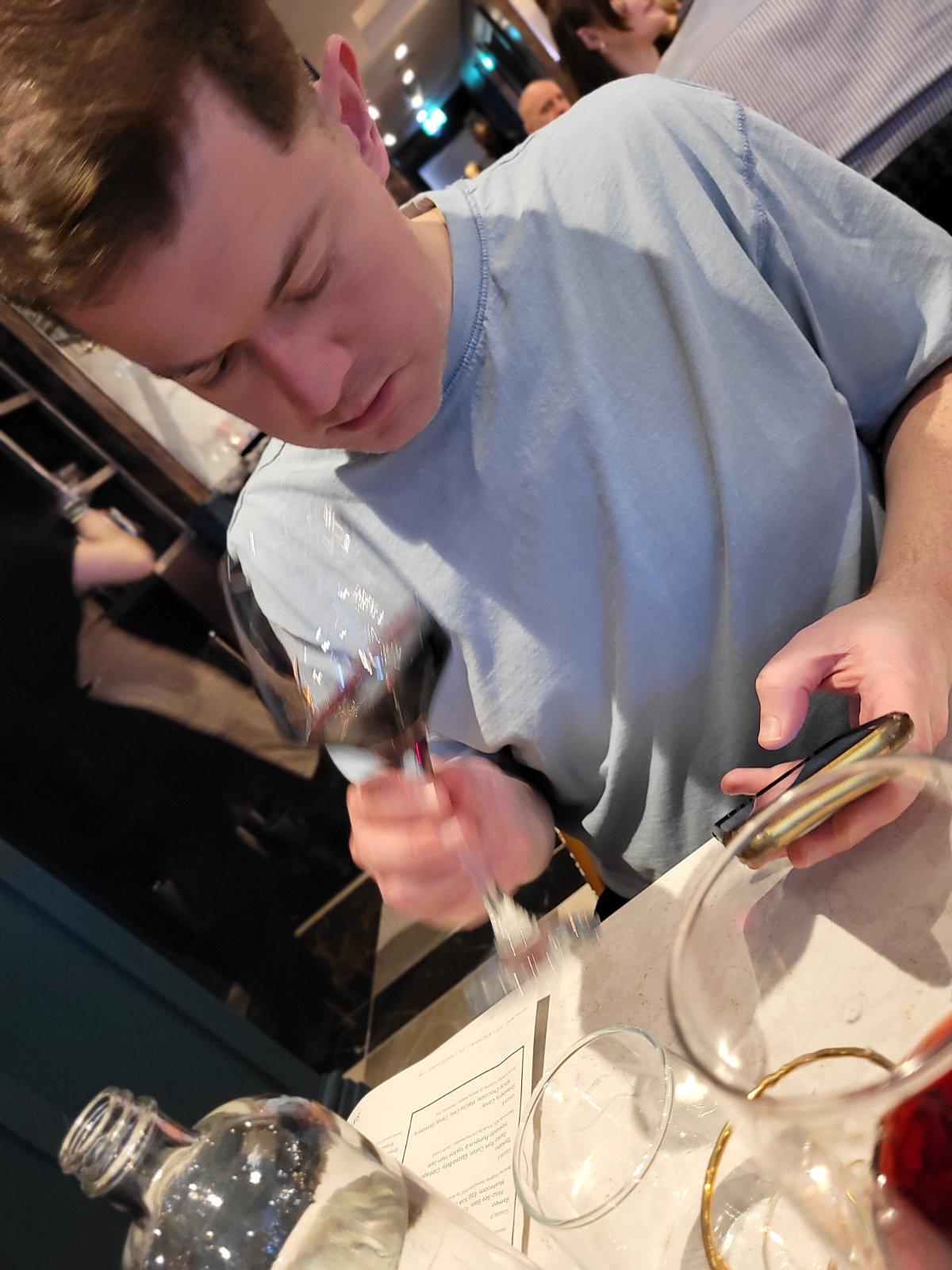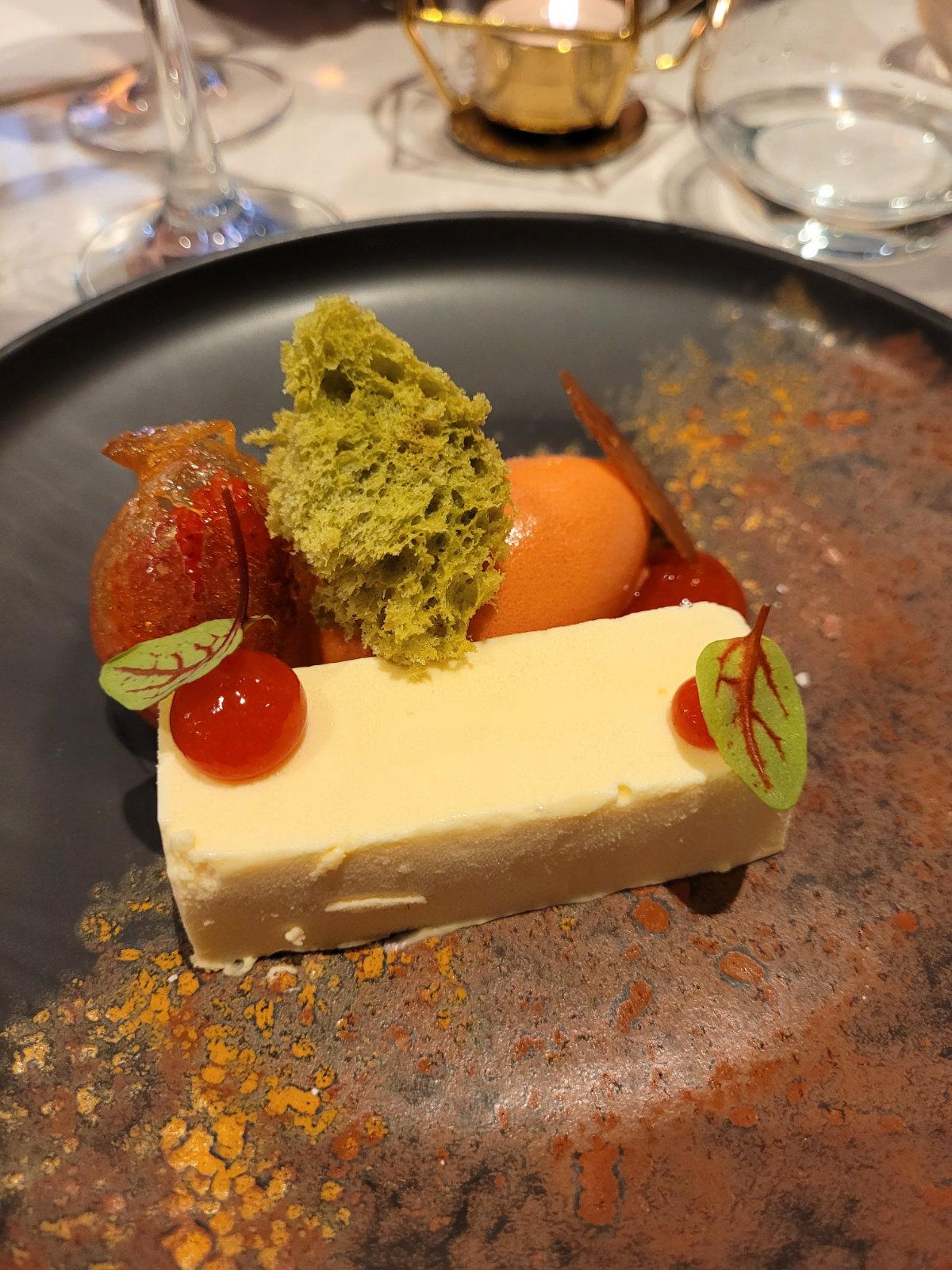 Strawberry Candy
So good to see matcha cake on the menu. This dessert is a combination of white chocolate parfait, matcha cake, strawberry sorbet and a candied strawberry. The sponge was so light and just that right amount of matcha taste that isn't too bitter. The last wine of the pairing here is Dolce Essenza Frizzante, La Sera by Malgrà from Piemonte, Italy. A light, sweet wine, which reminded us a bit of a more sophisticated lambrusco.
Verdict
It's been a while since we have visited Six by Nico and the Tokyo menu and new location was a much appreciated excuse to visit. The decor is modern and vibrant but also relaxing with the food being the star of the show here. For £37, Six by Nico is an excellent value fine dining and with the accompanying wine pairing being only £30 for five glasses, you can easily find a few new favourites. For comparison, we ate at another Glasgow restaurant recently where the seven-course tasting menu is £110 and paired wines are £80 for six glasses.
Where
Six by Nico, 358 Byres Road, Glasgow
Book
The Tokyo six course tasting menu runs until Sunday 9th April 2023