50% off food during pre-opening period
On Monday 18th September Rosa's Thai will open the doors to its first restaurant in Scotland, on Glasgow's West Nile Street. To celebrate the launch, Rosa's Thai Glasgow will offer diners the opportunity to be the first in and enjoy 50% off food during its pre-opening period from Tuesday 5th to Sunday 17th September.
Rosa's Thai was co-founded by Saiphin and Alex Moore, who brought dishes from Saiphin's native Thailand to London when they opened a market stall on Brick Lane back in 2007. Just one year later they took over 'Rosa's Cafe' in Spitalfields, a traditional east London cafe just around the corner from the market stall, and opened the first Rosa's Thai restaurant – keeping the 'Rosa's' name because they didn't have the means to change the sign. Now, 15 years later, Rosa's has become renowned for bringing its fresh, vibrant cooking, signature Thai hospitality and Bangkok café vibes to cities and neighbourhoods across the UK.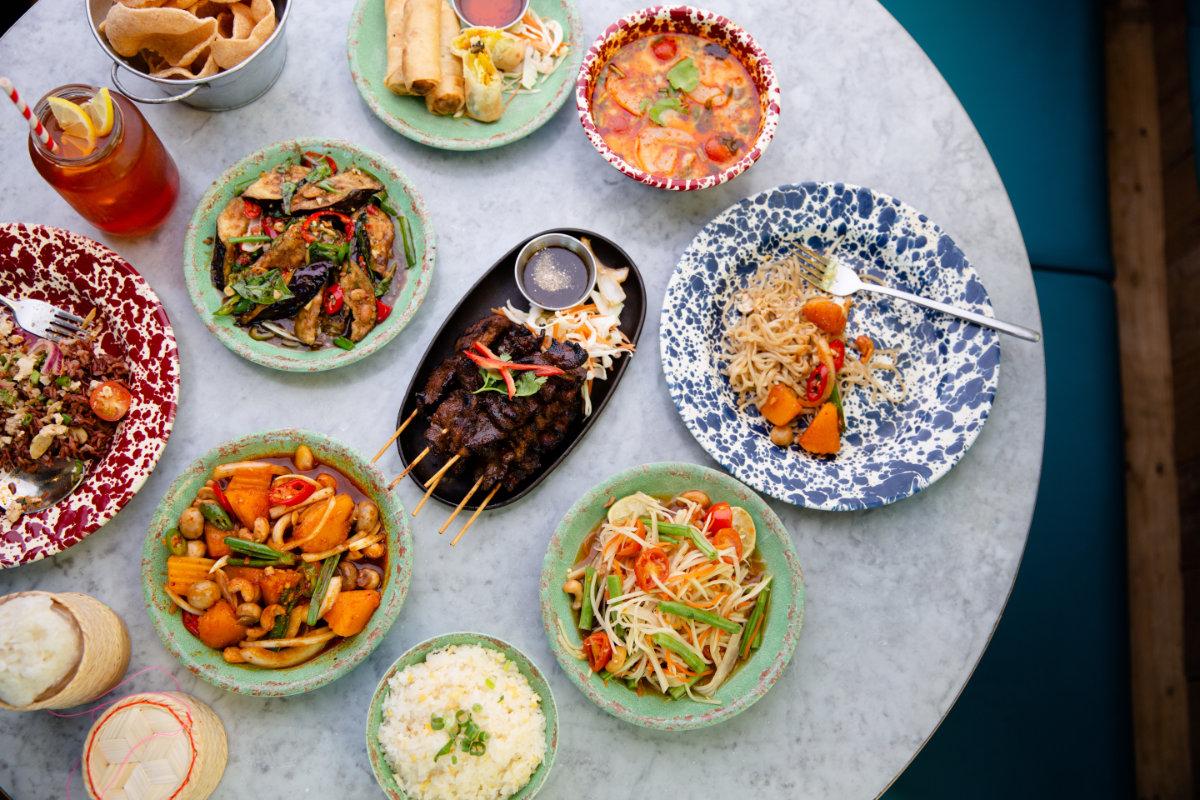 Guests at Rosa's Thai can expect an unfussy and relaxed dining experience. The menu celebrates Saiphin's time-honoured recipes and the best of Thai ingredients, including curry pastes from a husband and wife team in the Huai Yod district and pad Thai noodles from a 3rd generation family business. The menu combines familiar Thai classics, from spring rolls and pad Thai to fiery red and green curries, with signature fan favourites including fragrant red duck pineapple curry and stir-fried aubergine with sweet basil. There's an extensive vegetarian, vegan and gluten-free offering, as well as a dedicated 'Little Rosa's' kids' menu, making Rosa's Thai an accessible and welcoming spot for all diners. 
As for drinks, guests can enjoy Singha on tap, Rosa's house Thai-PA and 'Mai Mao' beers, Thai-inspired cocktails – including boozy iced tea – and a dedicated menu of bubble teas, including refreshing lychee and jasmine with mango bubbles and creamy pinky milk tapioca.
Glasgow's bright red exterior recalls the original Rosa's Thai restaurant in Spitalfields, while inside mixes warm red and pink tones with green tiling and bright neon wall accents to recall Bangkok's vibrant café culture. The 84-cover, open-plan space offers cosy booths for casual dining, as well as eight seats outside for al fresco eating. The restaurant will be open seven days a week with tables available for reservations and walk-ins, as well as take away and delivery.
Of the launch, CEO Gavin Adair said: "I'm so happy to be opening in Glasgow.  We've been wanting to come for such a long time, it was just a case of waiting for the perfect site, and we think this is it! We can't wait to bring our amazing curries and noodles and stir-fries to the Glasgow scene, it looks like we're going to be in great company".
Rosa's Thai will be opening at 41 West Nile Street, Glasgow where Côte Brasserie was.