What it should be and what it's not
The trend for German doner kebab in Glasgow has meant that we thought we'd look into what a doner kebab is, and why should a German one be so good?
Why Germany, or more specifically Berlin?
It's no secret that we ❤️ Berlin, so you can safely say we've had a few over the years on our visits. They haven't always been amazing, however from Wilmersdorf to Kreuzberg via Fredrichshsain – wherever we have stayed, we've had a kebab.
From its origins in Turkey, the kebab became famous in Berlin and throughout the country as a result of the Turkish "gastarbeiter" guest workers, who moved to Germany to find work and brought their cuisine with them. The Turkish population in Berlin is substantial, so mix this with the Berliners love for fast food, currywurst, and you have success.
What is a doner kebab?
The word "Doner" comes from the Turkish word "dönmek" which means "rotation". Kebab means grilled meat, so rotating grilled meat.
Here is the earliest known photo of doner, by James Robertson in 1855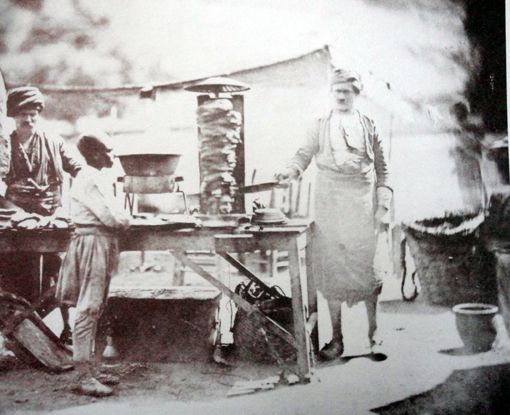 You can see the layers of meat stacked onto the skewer and being grilled in a rottiserie. Other names for similar kebabs are "Shawarma" and "Gyros".
What is a German Doner Kebab?
This is then served in a tasty flat bread (not a cheap pita bread) with lots of fresh salad. In Berlin, you will probably be asked "Welche soße?", which sauce? There are usually three sauces on offer – Kräuter (herbs), Knoblauch (garlic) or Scharf (spicy).

So with this knowledge, let's look at some Glasgow German doner kebabs.
German Doner Kebab
Click here to read our review.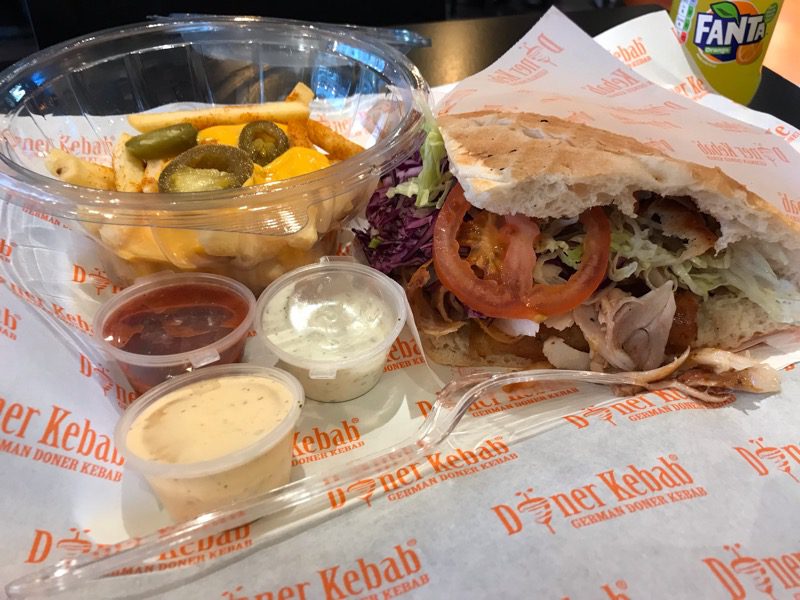 Doner Haus
Yayas
As you can see the bread seems right but….Yayas need to go to Germany!
German Doner Kebab seems to be half n half, the right meat but the wrong salad.
Doner Haus seems to be the nearest to a German doner kebab. Sliced meat, chopped salad and drizzled sauce.
Here are some other places in Glasgow for a good non-German style kebab.
Yiamas
Shawarma King
Anywhere else we should visit?
Guten Appetit!