Take it EZ like Sunday Morning
Mrs Foodie loves a Sunday roast even when it's summer and the sun is making a rare appearance over Scotland. So when we saw the Frankiez Facebook page mentioning a roast a few weeks ago, we booked in since we were too lazy to make our own roast.
Frankiez Cafe Bar used to be the Fereneze Inn (we never made it in sadly for a comparison) but it's only a 5 min walk from Barrhead Railway Station where there is parking opposite. McGill buses from Paisley also stop on Cross Arthurlie St while the No. 3 Neilston bus from Glasgow stops on the Main Street. Both are 5 minute walks west, and south-east respectively.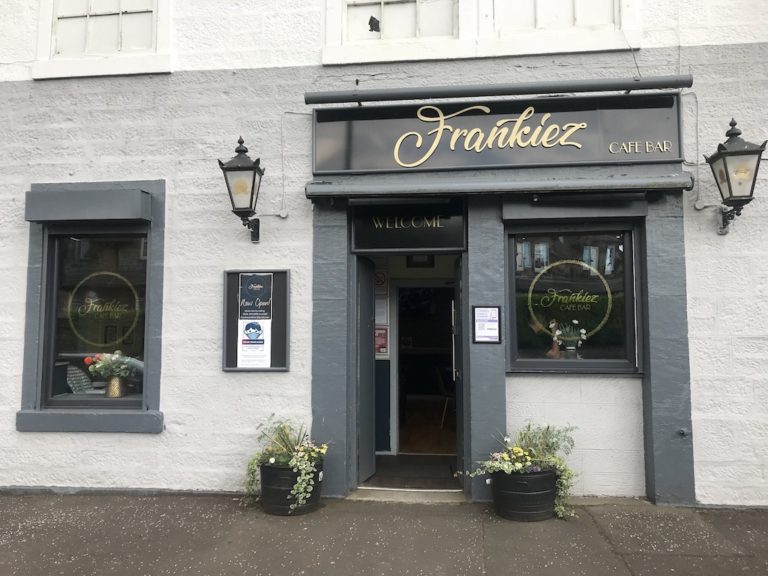 There is, or at least was, a small beer garden area outside but it was taped off during our visit so seating was indoor only which was a shame as it was lovely weather.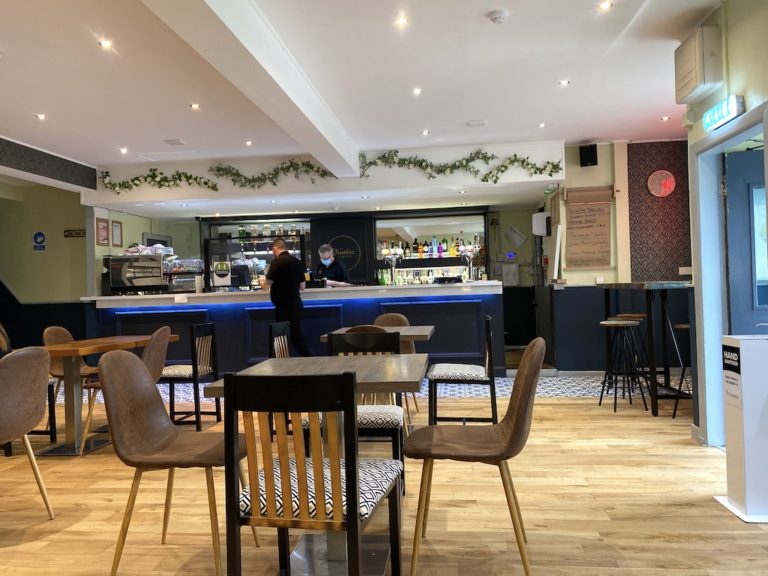 Inside, the tables were well spaced out and it was clean and tidy with a few families eating lunch. I took the photo below after most of the other customers had left.
Frankiez Cafe Bar  Food Menu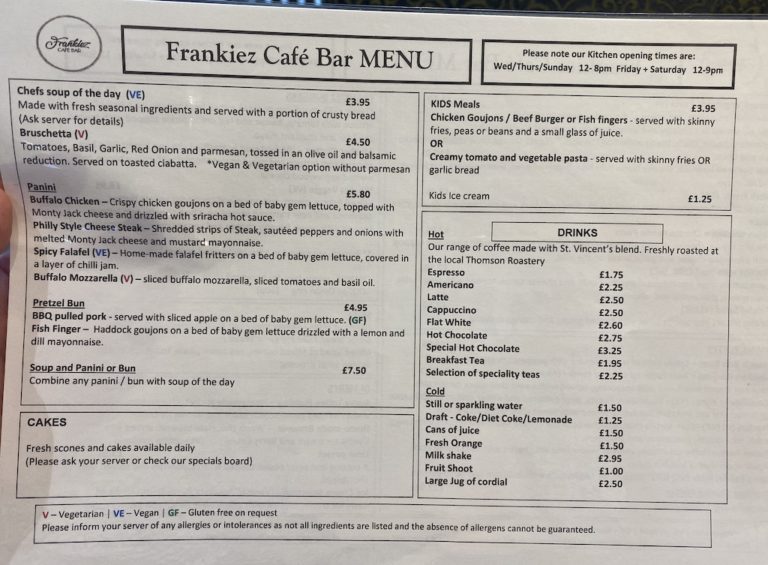 Frankiez Cafe Bar Drinks Menu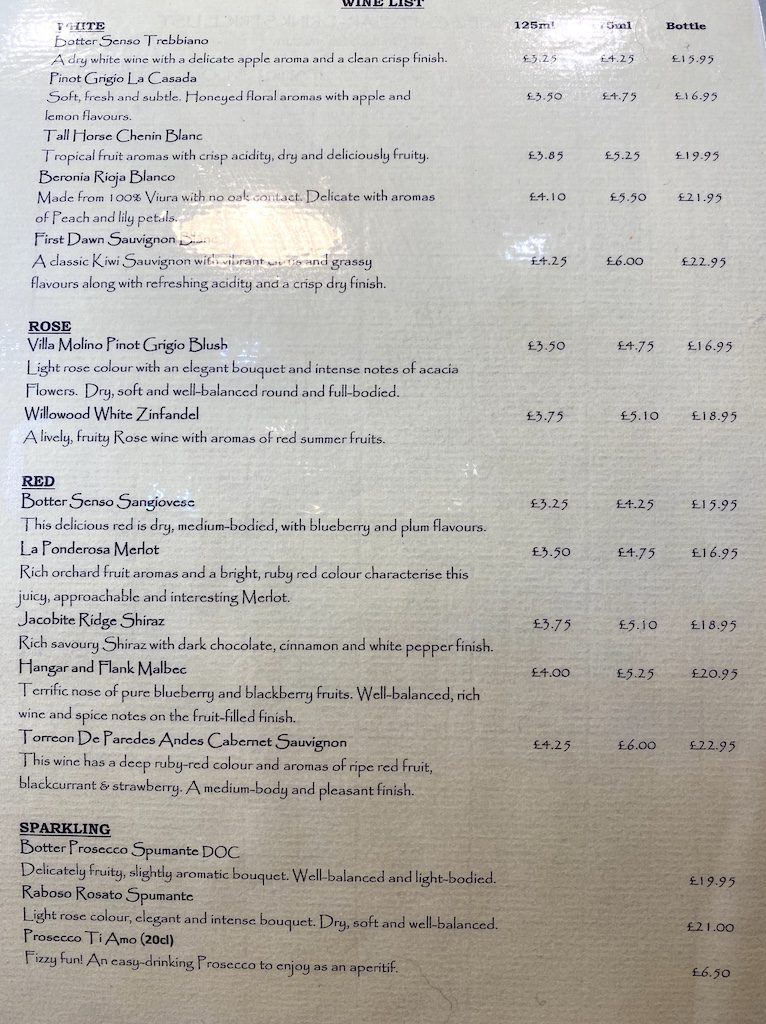 Food
The Sunday roast was on special for £10, so we all ordered the same along with glasses of wine whilst waiting. As you can see from the wine list above, there was a decent selection of wines by the glass and the prices are inexpensive.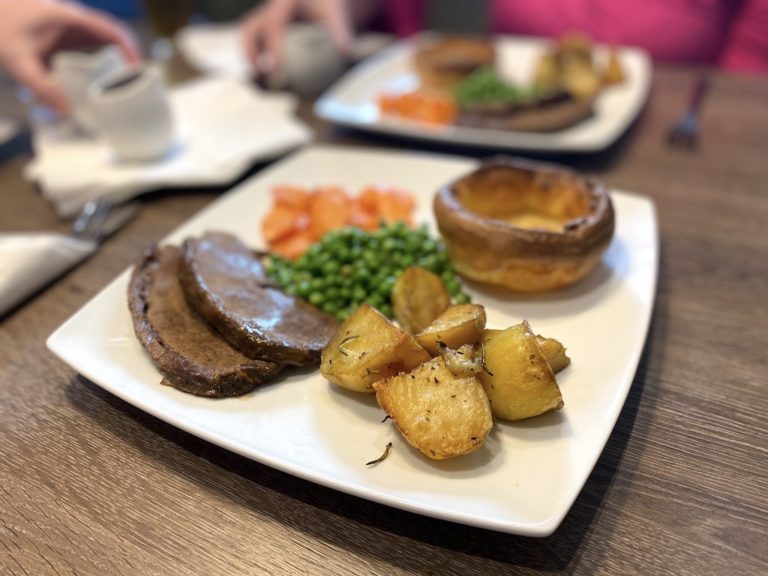 Our roasts soon arrived – a couple of slices of beef, rosemary roasties, Yorkshire pudding, peas and carrots with a dinky jug of hot gravy each. It's not the biggest or most enthralling roast but it is only a tenner and it was all cooked properly. Contrast that with recent Sunday roasts we have had elsewhere for £18 and upwards, and one of the others was REALLY chewy.
As well as the desserts listed on the menu, specials on our visit included chocolate mint cupcake, chocolate orange cupcake and an old school sponge cake with ice cream or custard for £3.50. We ordered a selection cos the diet isn't starting anytime soon.
Verdict
Friendly and quick service. Frankiez Cafe Bar seems a decent place to take the family for a money-saving meal. Since the Toby Carvery at Hurlet became a funeral parlour (yes, you read that right) roast dinner options in the South West of Glasgow are limited so it was good to have something easy to get to for us non-drivers. Although how often will they do a roast? From looking at the Frankiez Cafe Bar Facebook page it seems the special changes every week or so so keep checking if you fancy it. The day-to-day menu looks good so we will be back to try out some more dishes – maybe even a nighttime visit for cocktails. Toilets also checked and in good working order.
TL;DR
+ Family-friendly food
+ Nice wines by the glass selection
+ Good prices
+ Easy to get there by public transport
+ Toilets clean
– Not quite an Instagrammable Sunday roast
Where
Frankiez Cafe Bar
70 Carlibar Rd,
Barrhead,
G78 1AD
Transport
Click here for Traveline Scotland Journey Planner