Great wee Cafe near the train station
We were off the home turf just before pay day in Barrhead but where is good to eat in Barrhead?  Central Cafe looked interesting from the outside, a proper old cafe and it was busy – generally a good sign and popular with pensioners, double money saving points!
Central Cafe is a traditional greasy spoon with a sit in area and a takeaway counter.  Selling not only hot rolls and cakes but also homemade ice cream.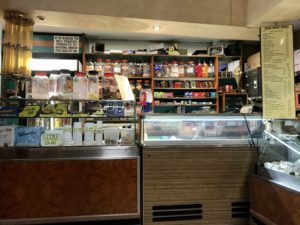 We were in for something more substantial after helping with a house move.
Menu
The menu at Central Cafe includes filled rolls both hot and cold, and a wide range of breakfasts including vegetarian and Atkins friendly plus you can build your own fry up.
Theres also baked potatoes and toasties plus a range of main courses such as chicken Kiev, macaroni cheese and breaded haddock and chips.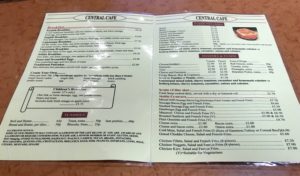 Then there's a range of cakes and ice creams to tempt you for afters.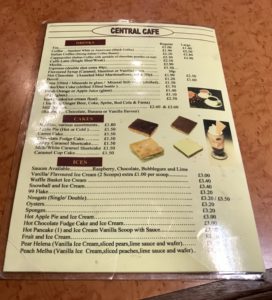 Food
We settled on the Scottish Breakfast, which for £4.20, gets you two potato scones, two rashers of bacon, one slice of lorne sausage, one fried egg and a slice of toast.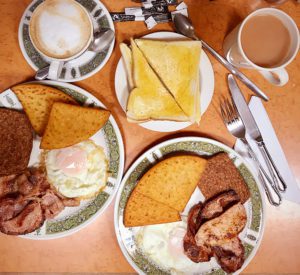 Salty bacon, but in that flavoursome way and not overpowering, and the egg yolk was just right for dipping into but with that bit of firmness left for adding to your toast 'piece'.  Not so much flavour to the Lorne sausage, it did it's job and wasn't fatty.
Mr Foodie picked the Italian coffee out of the two coffee options as it stated it was strong and he hadn't had his daily caffeine fix yet but it turned out to be really milky. Staying long enough to justify another cup they were able to make a much stronger coffee on request second time around.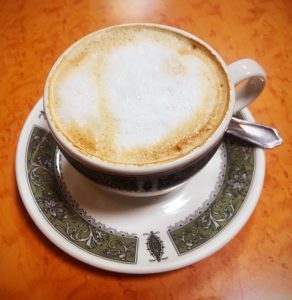 For afters a caramel slice for our guest, McGhees Apple slice for Mrs Foodie and a Nutella muffin for Mr Foodie.  Not much filling in the Nutella muffin but it was fresh and fluffy. The apple slice was proper old school that it could be imagined served in a bowl with custard!
Verdict
👍
Where
Central Cafe
70 Cross Arthurlie Street
Barrhead
G78
Transport
A short walk from Barrhead Railway Station. McGills buses 51 and 52 pass outside. McGill buses 3 via Main Street, Barrhead.
Click here for Traveline Scotland Journey Planner
Accessibility
Level access, small cafe so a tight fit.