New mural for Rogano
Glasgow's oldest restaurant Rogano has unveiled its latest mural. Working with local illustrator Sophy Louise, Rogano's boarded frontage has been injected with a burst of colour.
The latest mural "Martini" is the third in the series and features bartenders mixing an all-time classic – The Martini. The mural follows a 70's inspired dinner party and Champagne cabaret.
Each artwork has been telling the hidden stories of Rogano while the restaurant doors remain closed. From their illustrious guests dining over oysters to glassware and Champagne coming alive – the latest piece pays homage to the art of crafting a perfectly mixed drink.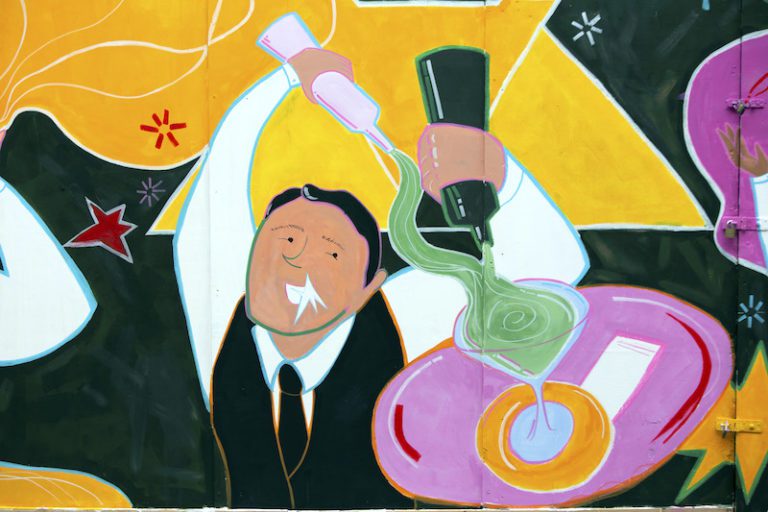 Artist Sophy Louise "I loved hearing the stories of Rogano from the team and customers alike, there was always such a vibrant tone to them. I wanted to capture this sense of energy and boldness within the mural. Rogano is famed for its cocktails, which I really wanted to take centre stage within this design, with the backdrop of the art deco bar feature. I really wanted to create an image that would make people smile as they walked by – from its bubbliness and bright colours"

Business development manager Claire Stuart commented "Rogano as a restaurant has a great deal of romance attached to it. Over the last year reading the stories of customers memories of the venue really assert what a special restaurant Rogano is. Being able to tap into its rich history and share some of those stories, while working with some incredible local artists and charities helps give the venue a purpose while the doors remain closed."
Upon completion, each piece will have been in position for eight weeks, after which a fresh canvas will go up and a new artist will take over.
Prints of "Martini" are available for pre-order with £5 from each print sale being donated to Shelter.
Click here to order from Rogano
Sophy Louise's Martini at mural is available to view outside the Rogano at 11 Exchange Place until the end of May when their next artist will be unveiled.