New doner kebab site at Silverburn
From the folks that brought you Doner Haus on West Nile Street comes Doner Shack. It's a similar concept of Berlin street food but this time in a more casual setting. At the food court end of Silverburn so handy for a pre-cinema or post-shopping visit.
Doner Shack Glasgow Menu
What we ate at Doner Shack Glasgow
What didn't we try?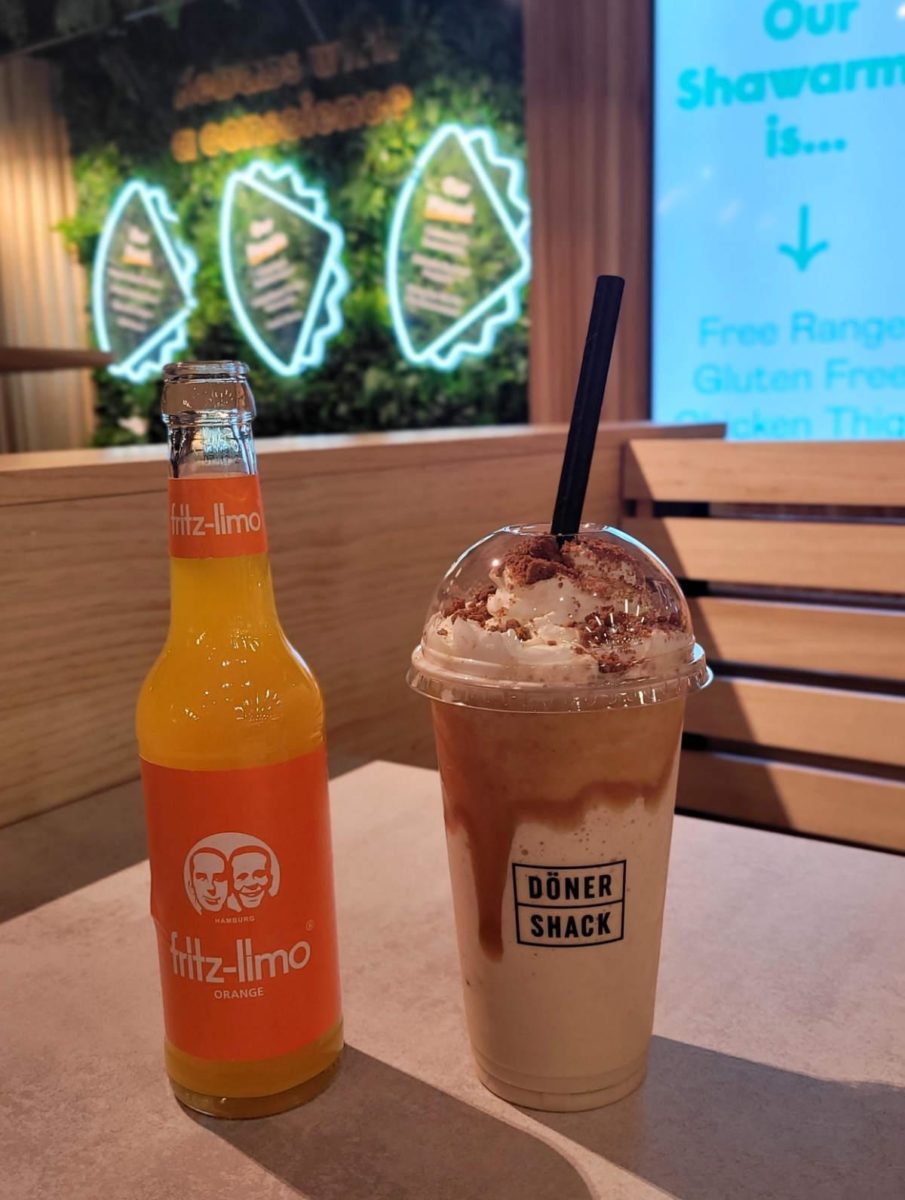 Drinks were our Berlin fave Fritz and a Schoff Shake – a biscoff shake. Worth a visit just for one of these.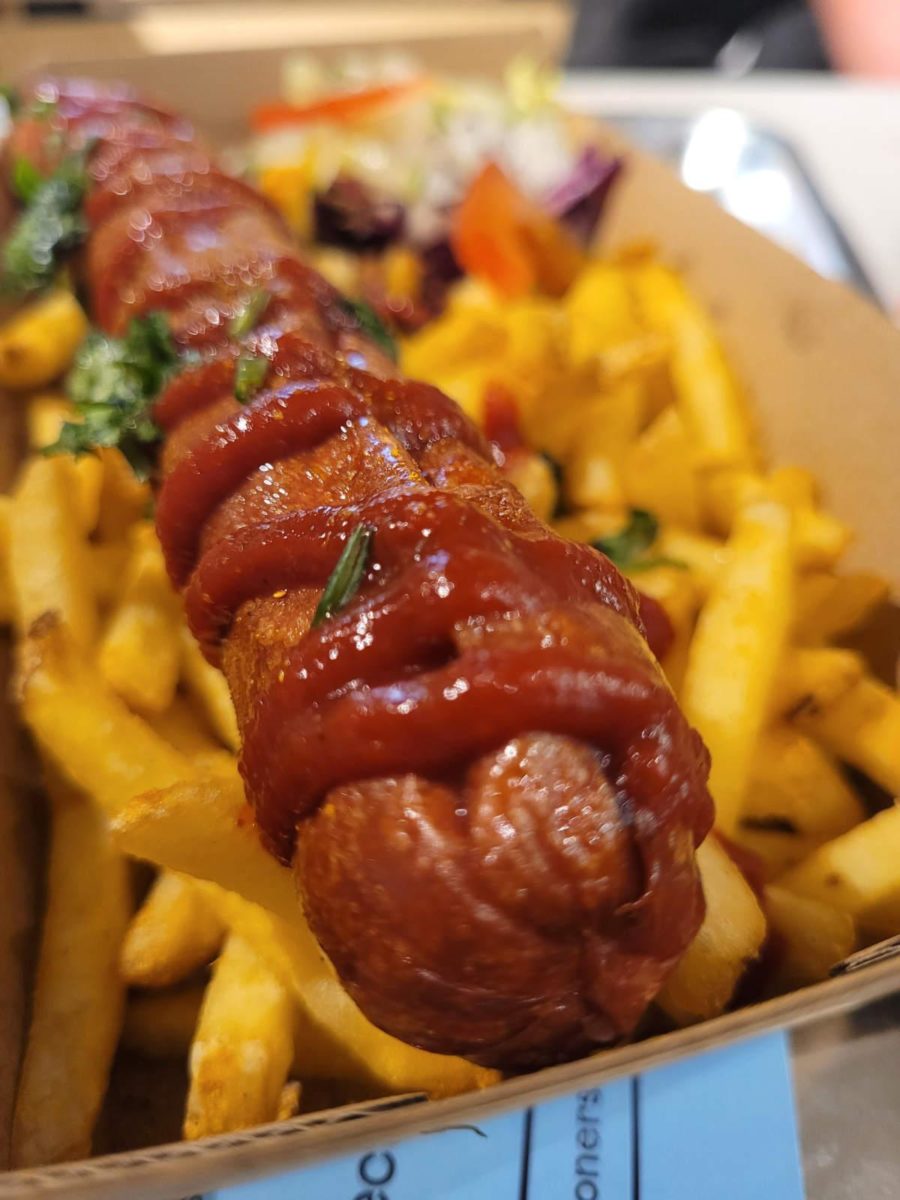 Currywurst is another fave of ours. At Doner Shack Glasgow you can choose between turkey or beef wurst.
Salads are on the menu, with doner, shawarma, vegan shawarma and halloumi available.
Pin this ⬇️ for future foodie plans
You can't visit Doner Shack without trying a doner!
Moist meat, a choice of sauces atop fluffy bread.
Here are the sauces available.
Some chicken schnitzel bites to share as well. Surprisingly chonky with a crisp coating.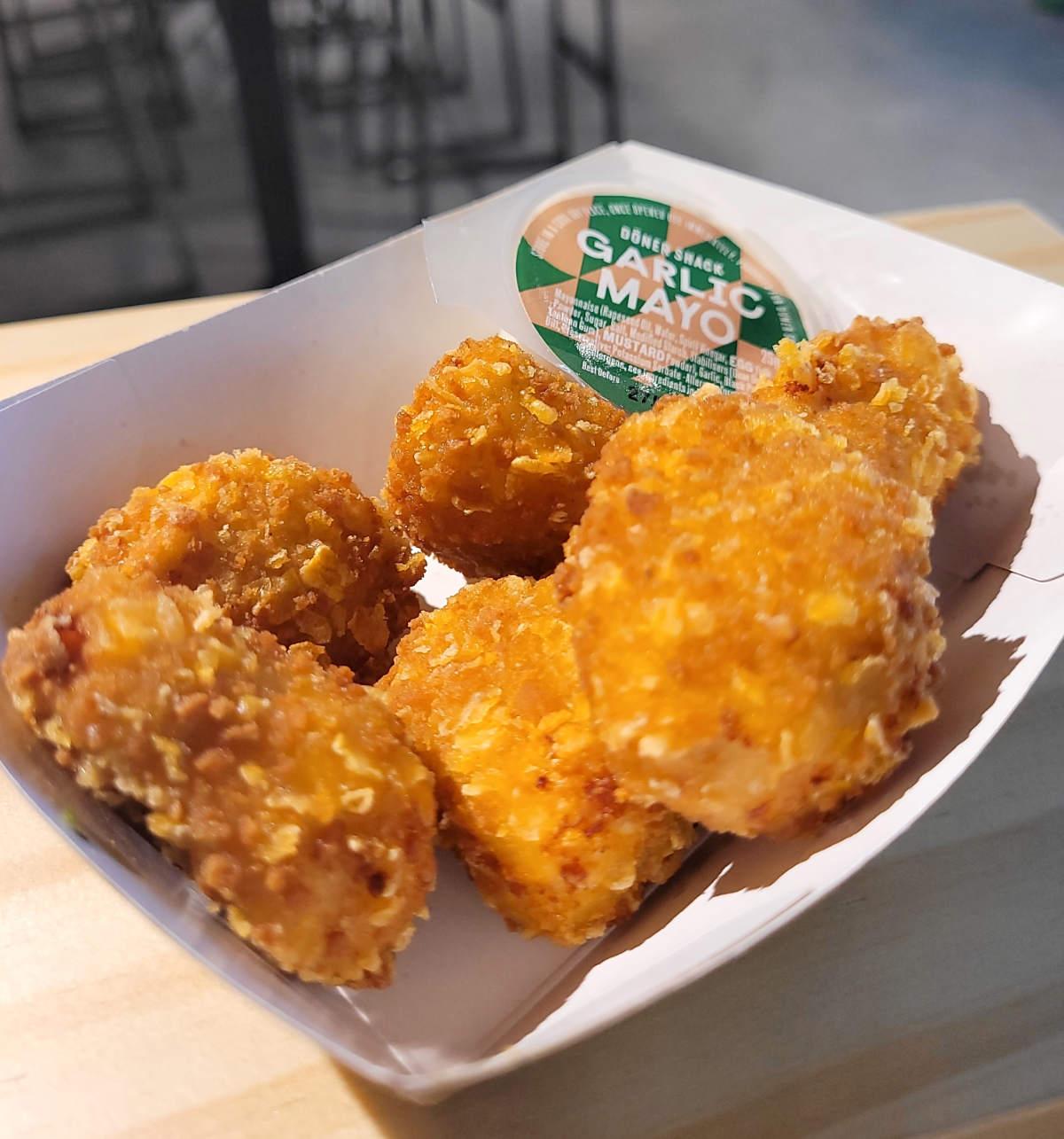 Looking for more Glasgow Southside eats? Click here
Sign up to their app to get money off and earn points.
Verdict
👍 for a quick and filling currywurst and kebab. It's not as good as in Berlin, the currywurst needs to be drenched in the sauce, but for a fix, it's a good substitute for a flight over!
Service was friendly and quick and the tables were cleaned quickly.
For a more casual version of Doner Haus, visit here.
Full menu at Doner Shack Glasgow
Currywurst
Skin-On Fries, Sauerkraut, Mixed Salad, Curry Ketchup, Herbs And A Wurst Of Your Choice
Turkey Frankfurter
Beef Frankfurter
Wrap
Lavash Wrap With Both Garlic Mayo And Chilli Sauce, Skin-On Fries, Mixed Salad, Herbs And A Dip Of Your Choice
Döner
Mixed
Chicken Shawarma
Kebap
Sesame Seed Pida With Both Garlic Mayo And Chilli Sauce, Mixed Salad, Herbs And A Dip Of Your Choice
Döner
Mixed
Chicken Shawarma
Mixed Chilli Döner
Mixed Meat, Hot Sauce, Rocket, Red Cabbage, Onion, Chilli Sauce
Cluck Shack
Chicken Shawarma, Halloumi, Mixed Salad, Garlic Mayo
Teller
Skin-On Fries With Meat, Mixed Salad, Herbs, Harissa And A Dip Of Your Choice
Döner
Mixed
Chicken Shawarma
Salad
Gem Lettuce, Smashed Avocado, Cucumber, Tomato, Pickled Red Cabbage, Grated Carrot, Herbs And Salad Dressing
Döner
Mixed
Chicken Shawarma
Sides
Chicken Schnitzel Bites
Dips
Garlic Mayo, Chilli, Curry Ketchup, Hot Sauce
Falafel Bites
Harissa Skin-On Fries
Kreuzberg Fries
Skin-On Fries, Choice Of Meat, Chilli Sauce
Skin-On Fries
Meat Free
Veganwurst
Skin-On Fries, Sauerkraut, Mixed Salad, Curry Ketchup, Herbs And A Veganwurst
Seitan Wurst
Wrap
Lavash Wrap With Both Garlic Mayo And Chilli Sauce, Skin-On Fries, Mixed Salad, Herbs And A Dip Of Your Choice
Halloumi
Plant Based Vegan Shawarma
Kebap
Sesame Seed Pida With Both Garlic Mayo And Chilli Sauce, Mixed Salad, Herbs And A Dip Of Your Choice
Plant Based Vegan Shawarma
Teller
Skin-On Fries With Meat, Mixed Salad, Herbs, Harissa And A Dip Of Your Choice
Halloumi
Plant Based Vegan Shawarma
Salad
Gem Lettuce, Smashed Avocado, Cucumber, Tomato, Pickled Red Cabbage, Grated Carrot, Herbs And Salad Dressing
Halloumi
Plant Based Vegan Shawarma
Sides
Vegan Kreuzberg Fries
Skin-On Fries, Vegan Shawarma, Chilli Sauce
Vegan Schnitzel Strips
Drinks
Fritz
Kola
Kola Sugar-Free
Lemonade
Orangeade
Milkshakes
Schoff Shake
Caramelised Biscuits
Oreo
Nutella
Banana
Strawberry
Vanilla
Ice Cream
Choose two toppings
Oreo
Strawberry Sauce
Chocolate Sauce
Toffee Sauce
Caramelised Biscuits
Kids
Meat or Veggie Options With Skin-On-Fries, Fruit Shoot and Vanilla Ice Cream Tub
Döner
Chicken Shawarma
Falafel
Chicken Schnitzel Bites
Dogs
Pupperwurst
Where
Döner Shack, Food Court area, Silverburn, Glasgow