A pure Ali-shanner
We'd been meaning to visit here for so long, from the kitschiness outside, where you can see fish tanks inside. Mrs Foodie was suffering a cold so a spicy curry was what Dr Foodie prescribed.
The interior is small and lit up brighter than Elfingrove with epilepsy-inducing lights flashing all over the room!
Thankfully we had booked a table as a regular supply of customers came in, a good sign we hoped. The first obstacle though was getting a drink. Mr Foodie had to ask twice for his order to arrive. 😕
The second obstacle is the menu, it's huge – far too big in fact. We weren't sure if we have seen so many dishes on a menu. How much is freshly made? We'd rather see a few well-prepared dishes than a gazillion poorly made ones but we asked for recommendations since there were a number of dishes we didn't recognise, only to be asked if we liked chicken tikka. We nodded and then were directed towards the more common dishes, quite the opposite of what we were asking for. We settled on a scampi curry (of which they have half a dozen variations and it sounded suitably silly for Mrs Foodie)  and a Janter Manter, which, when we googled it, we realised that 'Jantar Mantar' is a UNESCO world heritage observatory in Jaipur.
After spotting one of Mrs Foodie's favourites on the menu, Cauliflower Pakora, it had to be ordered.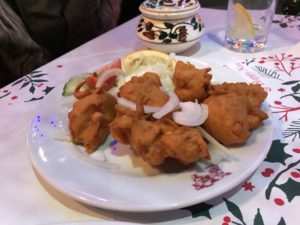 Not much to mention here.  The consistency of the vegetable was good but..more of a soggy batter for the gram flour coating instead of a crisp flavoursome coating.😕
This carried on with the Chef's Platter.  Chicken Pakora, Lamb Pakora, Vegetable Pakora, Mushroom Pakora, Fish Pakora, Chicken Chaat, Chicken Tikka, Lamb Tikka, Seekh Kebab, Spiced Onions & poppadoms.  Bland pakora coating and the sheekh kebab was overcooked and tough as old boots.  😕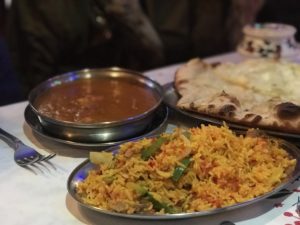 While awaiting our mains we were informed that they'd run out of scampi and so this was substituted for prawn. The Prawn Curry was a bowl of sauce with a fair number of small prawns. No spice again was tasted, not even a kick.  There was more spice in the accompanying side order of rice.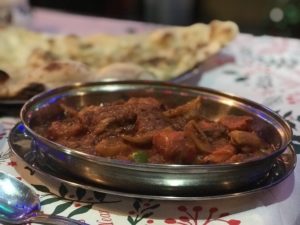 Janter Manter described as bite-sized pieces of chicken tikka cooked in a specially prepared slightly spiced sauce with green peppers, mushrooms, onions and pineapples, blended with warm spices giving an excellent dish of medium to hot strength. It was the better of the two but again not all that spicy but having pineapple in an Indian curry made it a bit different.

The best bit, the garlic naan. 👍
Verdict
👎
We wanted to like it more.  OK if you are in need of curry but not a must-visit. Service is friendly.
Where
Alishan
250 Battlefield Road
Glasgow