Mezcal Mexican dining in Glasgow
Named after the popular Mexican spirit, Mezcal and brought to you by the group behind Halloumi, Pickled Ginger, and Rioja, we had high hopes of an exciting Mexican lunchtime experience.
Inside, the decor is a mishmash of Google searches for Mexican things, complete with cactus, tequila, Christian crosses and, of course, some Calaveras. Kitsch, but then again it's a Mexican restaurant in Glasgow, a cuisine Glasgow has always struggled to get right.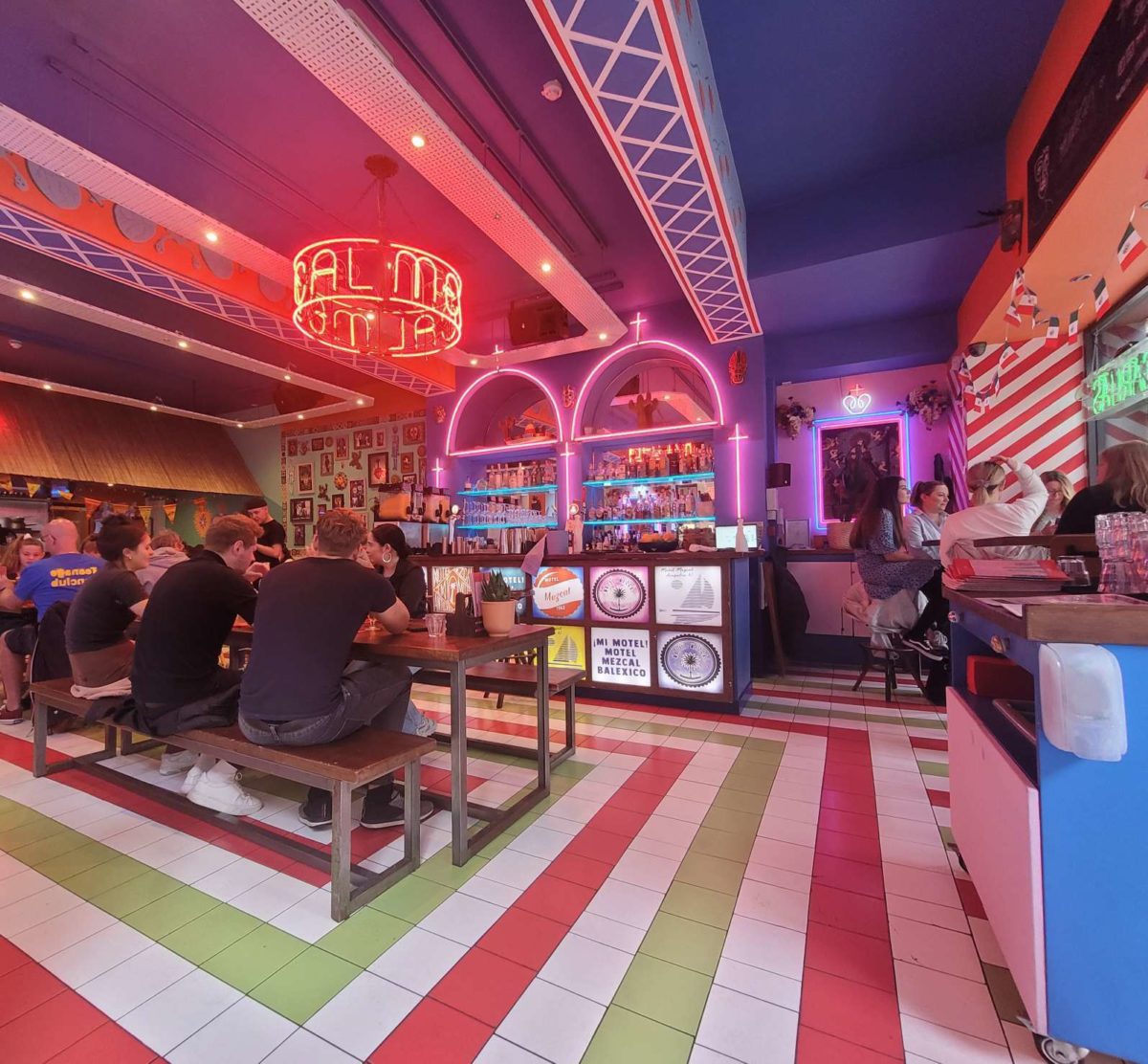 Menu
Lunch menu
All day menu
What we ate
We picked from the lunch menu, as we wanted a quick feed as we both had to be elsewhere a short time later. Mark chose the soup of the day, taco soup we were told, served with a chicken tinga taco (our choice from the selection offered).
The soup decided to jump out of the bowl and onto the plate when being placed down and left as such without an apology.
What is Chicken tinga? It's shredded chicken in a sauce made from tomatoes, chipotle chilis in adobo, and sliced onions.
As you can see the chicken tinga looks a bit sad. Watery chicken, some lettuce and tomato. Google 'chicken tinga taco' and then compare with the above.
The soup tasted like tomato and sweetcorn soup with a bit of heat, which is no bad thing. It tasted very much like the cooking liquid for the tinga (the adobo) so quite flavoursome.
While I chose the chicken tinga quesadilla and fries.
It's just as well there is a selection of sauces to choose from to jazz up the taste. I am the wussiest of wussies when it comes to spicy food. But a hint of something would have been good. At least the fries were crispy.
Note if you are ordering the lunch deal with soft drink, the Jarritos aren't included, it's only Cola / Irn Bru etc. I asked for a can of coke but a poorly mixed draft coke arrived instead and the Mariachi beer tasted of a future hangover so we ended up leaving about half of it. You get what you pay for I suppose. We were offered dessert and we were still hungry but decided to take a chance elsewhere. The total cost was £17 for two lunches with one soft drink and one beer.
Looking for more food reviews ? Click here.
Verdict
It's OK but we wouldn't rush back for the lunch deal. We may return for the all-day menu, which is hopefully to a higher standard.
Where
Mezcal, 104 Hope Street, Glasgow, G2
Book